Gearhouse Supplies AV Technology for Design Indaba Exhibition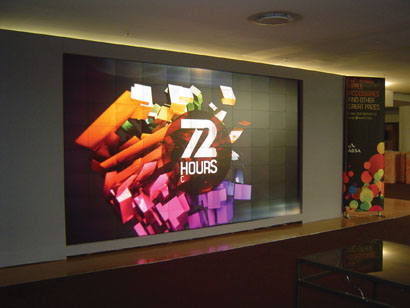 CAPE TOWN, South Africa – Gearhouse South Africa's Cape Town branch supplied specialist LED and AV display technology to four different installations at the Design Indaba 2011 exhibition, which was staged at the Cape Town International Convention Centre (CTICC) and included the Design Indaba Conference and Young Designers Simulcast. Since 1995, the Design Indaba Conference has addressed the topic of creativity and served as a gathering place for professionals involved in creative, corporate and educational pursuits, companies involved in graphic design, advertising, film, music, fashion design, industrial design, architecture, craft, visual art, new media, publishing, broadcasting and performing arts.
As a supplier, Gearhouse South Africa also supports technical creativity and an innovative approach, so the event served as a showcase for its own technology and innovative concepts.
The first installation was a countdown clock made out of Lighthouse L16 LED panels mounted in a custom frame, all supplied by Gearhouse, along with the motor that flew it from the ceiling. It was positioned outside Auditorium 2 of the conference. The client supplied a laptop and the relevant software to run on the display, and the clock ticked away continuously for the 72 hours of the conference.
The second installation was a 5.5-by-3.1-meter plasma wall located in the foyer of Auditorium 2, opposite the exit, so everyone could engage with the content appearing on it as they exited.
It was made up from a six-by-six matrix of plasma screens and mounted on a special base substructure that elevated it 1 meter off the ground. It received images and content from the separate Christie MicroTile installation that was set up outside Auditorium 1.
The MicroTile display measured 4.4 by 2.47 meters and was made up from 88 tiles. Content for the MicroTiles was uploaded to a local server via four Macintosh workstations, fed by delegates and students who were encouraged to create and share their own material and experiences from the day so far – images, videos, text, and so on. All of this was then sent to the plasma wall outside the Auditorium 2 exit in 15-minute refreshes.
The fourth installation supplied by Gearhouse was a piece of plasma art based on 12 screens suspended on a four-legged ground support system. Once built, this was clad with black PVC covered flats, complete with client logos so it effectively formed an arch structure. The plasmas were hung in three drops, each with four screens.
One set of four screens featured the same content as the MicroTiles, created by delegates and students. The other two sets of screens featured material supplied by the end client – in this case, ABSA bank – all of which was stored on a media server.
Gearhouse was working for Johannesburg-based advertising agency Jupiter Drawing Room, and the project was coordinated for Gearhouse Cape Town by Jason Lang.
For more information, please visit www.gearhouse.co.za.
Leave a Comment: