GoVision Provides HD Video Backdrops for Bush Library Groundbreaking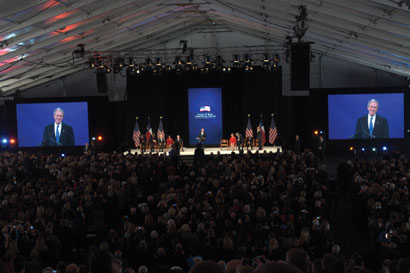 DALLAS, TX – GoVision, which provided video support for George W. Bush's second oath of office in January 2005 and a welcome home rally in Midland, Texas in 2009, was called upon yet again for the groundbreaking ceremony for the new George W. Bush Presidential Center at Southern Methodist University, a televised event attended by an invitation-only crowd of 3,000 friends and supporters. Along with the former President, former First Lady Laura Bush, former Vice President Dick Cheney, former Secretary of State Condoleezza Rice and other dignitaries attended the ceremony.
GoVision provided a 16-by-nine-foot Barco Nx4 video wall as the backdrop to the speakers' platform. The Nx4 LED screen allowed Corporate Magic to change backdrop displays throughout the event while maintaining a high-resolution image for the television broadcast and print photography.
GoVision also positioned two 12-by-20-foot Daktronics HD12 LED boards on both sides of the stage to feature video highlights and additional views of the speakers.
The George W. Bush Presidential Center is scheduled to open in 2013. The 225,000-square-foot facility will include a museum, a library and a policy institute. It is expected to attract 250,000 visitors annually.
For more information, please visit www.jumbo.tv and www.corporatemagic.com.
Leave a Comment: