GoVision's LED Wall Used at XLV Countdown Live from Cowboys Stadium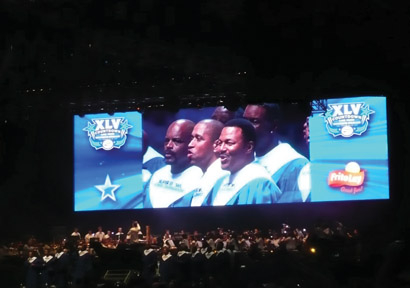 ARLINGTON, TX – After a year of planning, GoVision provided a 60-foot Daktronics LED video display for the XLV Countdown Live from Cowboys Stadium last month, which kicked up the momentum of the North Texas Super Bowl Host Committee's ongoing promotional efforts for the big game in 2011. The display gave 37,000 attendees a closer look at the more than 200 performers during the event. GoVision was tapped by Corporate Magic to provide and assemble the LED backdrop.
"Only the lower tier of the stadium was used during the event to provide an intimate feel in the massive venue," said Chris Curtis, president of GoVision. "We were asked to provide the center stage display for the event, and by using 90 panels of our Daktronics PST-12HD inventory, we gave attendees seated at floor level an incredible, full-video experience."
The two-and-a-half hour event began with a piano performance of the U.S. national anthem by Van Cliburn. The NFL Players Choir, featuring 28 retired football players including local favorites Tim Brown and Rocket Ismail, followed with a gospel-infused rendition of "America the Beautiful" – the first stadium performance for both the orchestra and the choir.
After that, the big screen displayed NFL Films' highlights from 50 years of Cowboys history, accompanied by the 102-piece University of North Texas Symphony Orchestra. Jerry Jones honored Emmitt Smith's recent induction into the Pro Football Hall of Fame, and Cowboys legends Roger Staubach, Darren Woodson, Larry Brown, Tony Dorsett and Charles Haley took turns recounting the five Super Bowl wins.
Finally, Tim McGraw and his band took the stage, with the screen supporting his performance. A fireworks show punctuated the end of the concert, concluding the evening's festivities.
For more information, please visit www.jumbo.tv and www.daktronics.com .
Leave a Comment: