IMCD Lighting Follows Fall Fashion Week to Lincoln Center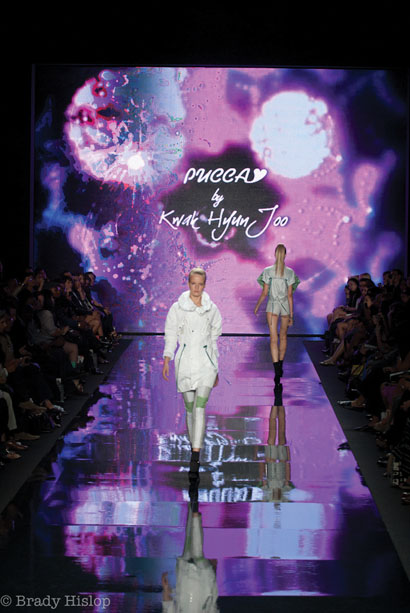 NEW YORK – It was a season for change for Mercedes-Benz Fashion Week, Spring 2010, which moved to a new, larger venue at Lincoln Center, and for IMCD Lighting which migrated to a grandMA console for the fashion shows it lit at Damrosch Park. IMCD designed the lighting for one of the four runways in the park's tents where more than 20 shows for different fashion houses were produced by IMG Fashion. Each show utilized a basic lighting package supplemented with moving lights, followspots and an LED video wall, as needed.
"For the first time ever, IMG included an LED wall to display video content, use as a light source or act as a backdrop," said lighting designer Joe Saint, president of IMCD. "We recognized that the best way to use the wall and incorporate all the lights into a show would be with the grandMA."
A.C.T Lighting arranged for training on the grandMA for those who were unfamiliar with the console. "They got their feet wet with the board and were able to come up with design ideas right off the bat," said Saint.
A number of the fashion designers opted to manipulate content on the 16-by-24-foot LED wall so IMCD brought in a media server controlled by the grandMA. A complement of additional moving lights was also deployed for some shows and controlled by the grandMA.
"We had two boards, a main system and a back up, and because of the redundancy we could have two people working side by side with no issues," Saint noted. "It was an easy thing for programmer Alex Casagrande to handle: It was all about manipulating moving parts in a short period of time. The grandMA allowed us to operate all of the lights and the media server and blend them seamlessly."
Essay Productions supplied the LED wall, and PRG provided the lighting equipment.
For more information, please visit www.actlighting.com.
Leave a Comment: