J. Thor Productions Mixes In Visuals for Melting Pot Restaurants Conference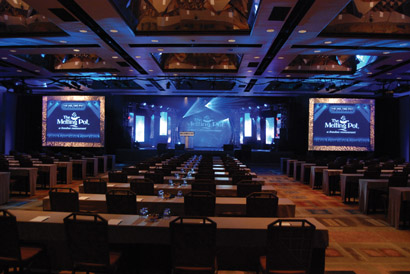 ORLANDO – J. Thor Productions, Inc. and Jacobs Incentive Travel teamed up to support an annual event attended about 300 executives associated with The Melting Pot Restaurants chain. The most recent event, which adopted "Melting Pot World Tour" as its theme, was held over four days at the Contemporary Disney Resort in Orlando. In addition to strengthening relationships, the event is designed to keep franchise owners updated on marketing efforts and the vision for the coming year. Vendor partners also have the opportunity to display their wares.
Building on the World Tour theme, J. Thor Productions provided a 17-foot-diameter circle truss center stage with a circular video screen stretched for visual media. On either side was box truss hanging Martin LC LED screens playing content fed through an Arkaos Media server.
The set design also included six custom curved brushed aluminum panels between the LC Panels lit by LEDs at both top and bottom. Road cases were placed on the stage with 60 LED color changing fixtures, 18 moving light fixtures, strobe lights, ACLs, nine lights and fog enhancing the looks. Two 9-by-12-foot projection screens on the wings displayed show content, with custom brushed aluminum surrounds to match the panels.
Jacobs Incentive hired the entertainment for each dinner. Destroyer, a KISS tribute band, opened the event, and Danny Ware as Michael Jackson and his dance troupe provided the finale. From there, attendees moved to another room that had been transformed into a glow lounge, with entertainment by a Tampa-based band, South Town Fever.
Attendee surveys registered a 99-percent approval rating, a high mark for the company and event organizers.
For more information, please visit www.jthor.com
Leave a Comment: