Lighting, Video for Prince's "Welcome 2 America" Shows Controlled with grandMA Console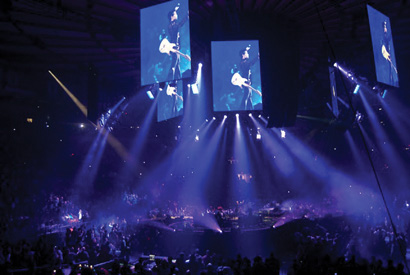 NEW YORK – For Prince's recent Welcome 2 America shows in the New York area, LD Demfis Fyssicopulos used a grandMA console to control the shows' lighting and video components. Prince played two shows at the Izod Center in East Rutherford, N.J., then moved to Madison Square Garden for three performances before and after Christmas. As with the artist's Super Bowl halftime show performance in 2007, the in-the-round stage was shaped like Prince's trademark, unpronounceable name symbol – essentially three catwalks joined by a circle. His band played in the center of the loop.
The entire stage was outlined by Nocturne V-9 LED screens, driven through a Control Freak Systems media server with audio and MIDI control, which were treated as lighting elements. Fyssicopulos used the grandMA to control the CFS VU meter function that feed the video cells outlining the stage so they could modulate to the music.
MIDI was also used as a triggering signal for visual effects. Signals came from the different musical instruments into the Control Freak rack and triggered a cue list for the particular song. Fyssicopulos teamed with lighting director Garry "Sport" Waldie before and during the shows to make changes on the fly as Sport ran the recorded cues.
The grandMA controlled the CFS rack and a lighting system of Bad Boys, VL3500Wash and Mac2000 Profiles.
Four cameras mounted on tripods plus two robotic cameras and at least one handheld camera recorded the shows. Video was fed by I-Mag.
Malcolm Weldom was production manager for Welcome 2 America with Dan McDonough, Jr. the crew chief.
A.C.T Lighting is the exclusive distributor of grandMA in North America.
For more information, please visit www.actlighting.com.
Leave a Comment: