Lightwave Lasers Brighten Arizona Mountain During Fiesta Bowl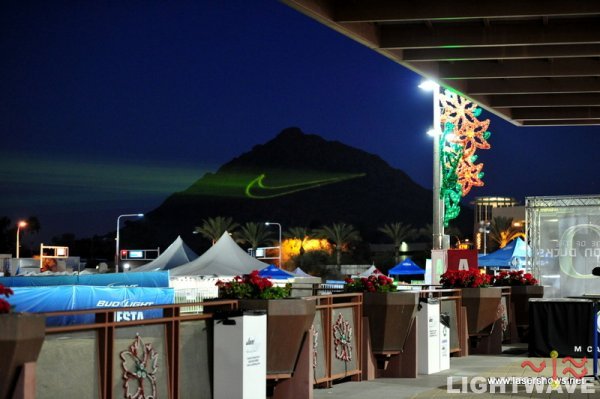 GLENDALE, AZ – Nike rallied to the support of the University of Oregon's football team, the Ducks, commissioning Lightwave International's laser projections from the 2011 Fiesta Bowl stadium grounds to the face of a mountain about two miles away. The rocky face of Camelback Mountain served as a projection canvas for a laser light show, with images hundreds of feet wide including the Nike Swoosh, the phrase, "Just Do It," and the "O" logo for the Ducks.
To create the images, visible for miles around, Lightwave International used over 200 watts of full-color direct-diode and OPS lasers.
Lightwave owner George Dodworth noted challenges including the mountain's composition, which was highly absorptive of yellow laser light.
To "force the mountain's color palette into submission" for Nike's yellow Swoosh logo, Dodworth used 15 full-color lasers and multiple 577nm Gold OPS lasers.
Dodworth also noted "several proprietary techniques" used to optimize the brightness of the imagery, as seen by both the human eye and by cameras – a key factor in the success of the laser show's viral potential on the Internet.
In terms of visual impact, the Nike-backed Ducks, sporting neon green, also trounced the Auburn Tigers on the field during the BCS national championships on Jan. 10.
Unfortunately for the Ducks, the ears – not the eyes – won the day.
Auburn player Michael Dyer listened for – but did not hear – a referee's whistle, and went on to make a pivotal gain in yardage after his near-tackle late in the fourth quarter, setting up the Tigers' winning field goal during the last play of the game.
For more information, please visit www.lasershows.net.
Leave a Comment: