Museum of the Moving Image Equipped with Barco RLM Series Projectors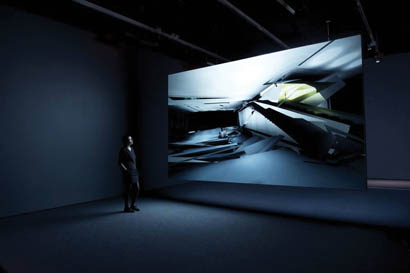 NEW YORK – The expanded and renovated Museum of the Moving Image reopens Jan. 15 with 17 Barco RLM series projectors used in prominent locations. These include a 50-foot-long seamless projection wall in the lobby, the new Video Screening Amphitheater, a new 68-seat screening room and an inaugural exhibition, Real Virtuality. The exhibition's six experiments in art and technology, including a commissioned work by the Flemish collective Workspace Unlimited titled Realtime Unreal utilize 10 RLM-W6 projectors in a variety of installations, two of which are stereoscopic.
These installations employ video game engines, motion- and position-tracking, and sophisticated image processing to create simulated worlds that extend, augment, or disrupt the physical environment of the Museum space.
"Barco gave us the chance to show audiences the full potential of our virtual worlds on a life-size scale with the best projectors in the industry," said Thomas Soetens of Workspace Unlimited. "In Realtime Unreal, a world is depicted in 3D and seems to float in space, while the visitor's movement around the gallery modifies the projection in real time, leaving the projectors to display a trompe-l'oeil so believable that the screen disappears."
One of the exhibits, Into the Forest by the OpenEnded Group, simulates a children's game of hide-and-seek in a digital forest, featuring a computer-generated world in the style of a hand-drawn illustration.
Pablo Valbuena's Augmented Sculpture uses digitally animated projections to transform architectural details of the museum's gallery.
The Night Journey extends the work of video artist Bill Viola into an archetypal journey toward enlightenment through the mechanics of the gaming experience.
RMB City by Cao Fei simulates the Beijings of yesterday, today and tomorrow within the multi-user virtual world Second Life.
In Cathedral, artist Marco Brambilla presents a Toronto shopping mall in kaleidoscopic 9K projection to evoke America's obsession with conspicuous consumerism.
"We are very grateful for Barco's generous support of our expansion and exhibitions," said Rochelle Slovin, the museum's director, crediting Barco's support and pledging to return the favor. "Our museum can serve as an ongoing showcase for their evolving technologies," she noted.
In addition to the opening exhibition, Barco RLM-W6 projectors create a 50-foot-long seamless panorama of projected video near the museum's entrance. The inaugural presentation, City Glow, a mural-scale work by artist Chiho Aoshima in collaboration with animator Bruce Ferguson, uses a pictorial style derived from Japanese scroll paintings and anime to tell a cyclical narrative featuring a cityscape that becomes overgrown at night by ghosts and fairies.
A Barco RLM-W8 projector will also be used to present a wide array of video art, animation, experimental film and television work within the new Video Screening Amphitheater. The first screening is a commissioned animated film from artist Martha Colburn, Dolls vs. Dictators-a work inspired by dolls in the museum's collection of licensed merchandise.
In addition, the Celeste and Armand Bartos Screening Room, which has been equipped with Barco RLM-W8 projectors, will be used for educational programs during the day and as an intimate space for public screenings by night and on weekends.
"Barco's projectors provide astonishing color rendition, resolution and clarity. The artists were amazed at how the projectors enlivened their work in a realistic, even tactile way," said Carl Goodman, senior deputy director. "We used the RLM-W6s wherever possible, since their ultra-high resolution is essential for presenting fine-grained, abstract imagery."
The RLM-W6 is a green, three-chip DLP projector that promises WUXGA (1920×1200) resolution, color saturation and image stability, priced competitively with single-chip DLP projectors.
With low noise levels (32dB), energy-efficient power consumption and a 6,000 lumens light output, it is used for presentations in auditoriums, public venues and boardrooms. The recently-introduced RLM-W8, meanwhile, is touted for its 8,000 lumens, improved contrast, geometry correction and edge-blending capabilities.
"The RLM solutions are ideal for Museum of the Moving Image because of their ability to project onto any kind of surface, as a single unit, or combined in a fleet for one composite image free of disturbances," said Bill Morris, VP video & lighting for Barco, adding that "the Museum is our largest RLM series installation to date."
For more information, please visit www.barco.com.
Leave a Comment: