New World Center Wallcasts Bring Classical Music Outdoors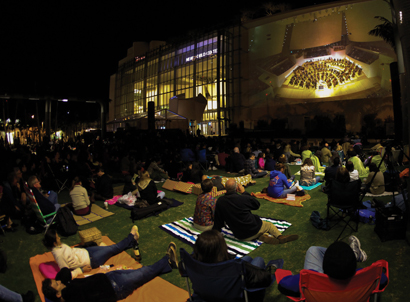 MIAMI BEACH, FL – The $160 million Frank Gehry-designed New World Center is offering simulcast Wallcast projections of symphonic performances outside the building as part of its mission to bring classical music performances to a broader audience, with an assist from coolux media servers. The Wallcast projections appear on a bi-weekly basis, free of charge, for visitors to New World Center's exterior SoundScape Park (designed by West 8) via an HD feed that gets sent out from a Grass Valley Kayak unit to live-input cards in the coolux media servers.
The imagery appears on a 7,000-square-foot projection wall. Four 35K Christie Roadie projectors are set up in quadrants, with coolux Pandoras Box servers being used for masking, edge-blending and also to overlay graphic content over the live video feed. The crowd listens via 167 surround-sound speakers.
Projections also play a role in the inside the building. An area of close to 8,000 square feet of the interior of the performance hall can serve as a projection canvas, allowing for immersive, wrap-around visuals to be synched to live music performances.
Technical director Clyde Scott uses 12 30K Christie Roadie projectors and Pandoras Box media servers for warping, edge-blending, masking and to create a single continuous canvas that wraps around the room.
In addition to its AV innovations, the concert hall itself can be configured in 14 different ways, and offers 247 seats that can be retracted to create a flat floor for cabaret-style performances or for shows where musicians perform amid audience members.
New World Center Design Credits:
Architectural Firm: Gehry Partners, LLP
Architectural Team:
Design Partner: Frank Gehry
Project Designer: Craig Webb
Managing Partner: Terry Bell
Project Architect: Brad Winkeljohn
Project Manager: Kristin Ragins
Director of Video Production at New World Symphony: Clyde Scott
Acoustician: Nagata Acoustics America, Inc
Theater Consultant: Theater Projects Consultants
Lighting Designer: LAM Partners, Inc.
Sound & Projection Consultants: Acoustic Dimensions, Sonitus, LLC
Construction Manager: Hines
For more information, please visit www.coolux.de and www.nws.edu.
Leave a Comment: