Pete's Big TVs Supports TNA Wrestling Events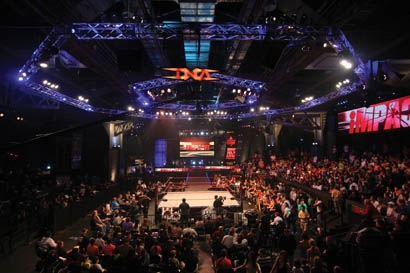 NEW CASTLE, DE – Pete's Big TVs/Performance Video supported TNA Wrestling's Slammiversary special that ran on Pay Per View recently. TNA Wrestling has tallied eight years of Total Nonstop Action (hence, TNA) on their Slammiversary
special. For the last two years, Pete's Big TVs/Performance Video has supported TNA "in the ring" with an installation of screens.
TNA Wrestling's home base is at the Universal Studios SoundStage 21 in Orlando, where the wrestlers entertain fans in a live studio audience and via TV broadcasts on a constant basis. In addition to specials, TNA Wrestling regularly tapes its weekly two-hour show, iMPACT! airing on Spike TV.
The screen install serves a variety of purposes, according to TNA Wrestling's artistic director Gregg Horne. "The video screens are part of the visual look of the staging, and they convey information or stylistic impressions at various points in the show."
When the wrestlers burst through the main entrance and into the ring, the action is built up and boosted with a Lighthouse R7 7-mm screen (12-feet tall by 24-feet wide) to capture their introductions in an enhanced resolution.
Meanwhile, a GLux 37 mm screen – designed to be lightweight for hanging and lower resolution for the cameras – presents the TNA Wrestling logos and other images. A multitude of plasma displays accent the action throughout the set, pumping up the excitement for the live studio audiences.
TNA Wrestling's technician Ben Connor serves as the main liaison with Pete's, handling the day-to-day running of the equipment as well as maintaining the gear. "He has proven to be an enormous asset to our production," says Horne. "His technical expertise and professionalism has made him an integral part of the show."
Peter Daniel, owner of Pete's Big TVs/Performance Video, noted, "We've had a great relationship with TNA Wrestling for the past two years now. We're pleased that we can punch up the excitement in the ring for audiences in the studio as well as those watching at home."
For more information, please visit www.petesbigtvs.com.
Leave a Comment: