Pete's Big TVs/Performance Video Supports BET Shows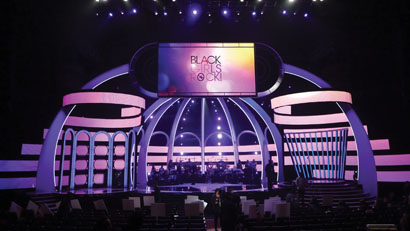 NEW YORK – The BET Network has recently designated Pete's Big TVs/Performance Video of New Castle, Delaware, as their "go to" company for a host of shows. But even a "go to" company sometimes needs to know how to "go to" get help when the unthinkable happens: their equipment does not arrive. Black Girls Rock!, taped Oct. 16 at the Bronx's Paradise Theatre in New York, makes its worldwide broadcast debut Nov. 7. "The Paradise was formerly an old movie theatre, beautiful and ornate, but it wasn't built with weight loads that modern buildings have," said project manager Guy Benjamin. "It was built to hold movie screens and a few lights. So weight was a big decision in which screens we could use."
However, the specific LED screens they originally purchased for this set did not arrive in time for load-in. Realizing the clock was ticking and their overseas shipment kept getting bumped from freighters, a call to Creative Technologies in Los Angeles and fast work from Rock-it Cargo rescued the situation.
"It cost us one and a half days of production time, but we didn't lose the show," Benjamin says. "Within 30 hours, we had the gear we needed. We had three different shipments because the equipment list was so large. We owe a big thanks to Creative Technologies' Stephen Gray and Ethan Pico."
Equipment supplied included an 11 mm Basic Tech LED screen for the centerpiece and 12 mm LED Flyer 12 screens for the "ribbons" swirling on each side of the set. Along with the gear, Creative Technologies sent along two crew techs – Luis Castillo and Abram Guererro – to help Pete's tech crew members Matt Ellar, Rob Villalobos and Rob Maloney to make sure the new gear was working well in plenty of time.
Art Director Star Kahn created the technical/build drawing for the set shops and worked on the physical realization of the design. Show designer Anne Brahic designed the video elements to be "an elegant and multifunctional backdrop."
The last-minute change in equipment apparently didn't faze Brahic, as her video vision came through in the end.
"I wanted something that could change the look of the set through patterns, imagery and color throughout the show, and yet also act as an architectural vocabulary of its own," Brahic said. "I love using negative space/black with video and breaking it apart into shapes like the stripes of video I designed here. They become these ribbons of scenery that retain their shape by the nature of the horizontal bands but can morph into a plethora of different looks because they are video and not just lit surfaces."
The "ribbons" of video were for decoration, with stock content fed from the M-Box, programmed by Patrick Dierson. The main center screen had its own video feed showing live content and show logos.
"We actually ended up using higher resolution screens than we had originally specified," Benjamin says, "so the show did not suffer with the switch."
Other BET shows have worked like clockwork. Pete's Big TVs/Performance Video supplied the recent BET Hip Hop 2010 Awards at the Atlanta Convention Center. "We used about 100 Lighthouse R7 LED panels – some on rolling platforms, and about 24 hung individually on odd angles all over the stage. It was a really cool set, designed by Alana Billingsley. Then yesterday we loaded in another screen for A Very BET Christmas, which will tape over the next four weeks to air during the holidays," he added. "We've enjoyed our relationship with the BET Network for four or five years now, and we look forward to more shows in the future with them."
For more information, please visit www.petesbigtvs.com.
Photo courtesy of Anne Brahic
Leave a Comment: