Proel's EVR Media Opens Rome Office with Fanfare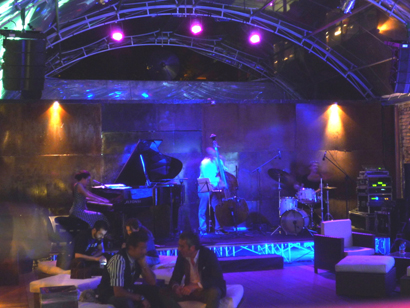 ROME – EVR Media, one of the companies in Proel Group, opened its new office here with the kind of fanfare it hopes to be providing for other corporate events in the region. The event including sound support for jazz and DJ performances along with choreographed dancers, lighting and projection. EVR Media set up four Panasonic 12,000 ANSI lumen projectors and five 10,000 ANSI lumen projectors for graphics fed by a Catalyst system on the inside walls; a Christie 20,000 ANSI lumen projector that showed films on the outside façade; a Christie 3D cp2000-zx projector for 3D films; two ENG HD Panasonic hpx500 cameras that filmed the whole event; two Panasonic 65" plasma monitors positioned outside that showed the graphic creations of Cantiere Creativo, a Roman TV production/post-production agency; seven NEC seamless 46" monitors composing a Videowall that showed what the Panasonic AG3D-A1 camera was filming; a "Spider" 4×3 m holographic canvas, hung 5 m from the ground; and four Wowvx 3D 42" monitors for 3D animations.
Along with the projected visuals, the event included professional dancers who performed and also encouraged the event's attendees to hit the dance floor themselves for the DJ portion of the event, where the interior walls lit with Catalyst system graphics moved to the beat of the music.
For more information, please visit www.proelgroup.com.
Leave a Comment: