Projection Technology Helps Restore Look of Damaged Murals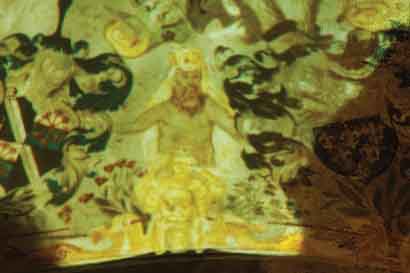 RUEDESHEIM, Germany – Michaela Janke, a student at the Cologne University for Applied Science's conservation and restoration institute, came up with the idea of using light projections to give visitors to the Broemserhof a better idea of what its centuries-old murals looked like before they were heavily damaged in World War II. The Broemserhof's foundations go back to the 13th century, but it would be another few hundred years before the artist Hans Ritter, a student of Lucas Cranach the Elder, would paint the murals as part of Broemserhof's ancestral hall and chapel in what experts have called a particularly complex secco-style.
Some parts of these elaborate murals, which depict some Biblical scenes next to a great variety of genealogical motifs, happened to be preserved by the 19th century artist Mogens Francesco Hendrik Ballin's precise watercolor paintings before they were damaged. These inspired Janke to pursue a form of visual restoration that would be projected onto the curved surfaces of the damaged murals.
Working with coolux GmbH and Burmester Event und Medientechnik, Janke was able to align the digital picture files based on the watercolor paintings with the uneven and contorted surfaces. The coolux Pandoras Box Warper projected a grid pattern on the target area, which was recognized by the software and allowed the picture to be manipulated.
It took Patrick Verhey, one of coolux's project managers, less than an hour to adjust the digital picture to fit the shape of the damaged area of the murals. The total area was limited to about one and a half square meters – much smaller than the large-format projections for which the software was developed – but the principles were the same.
For more information, please visit www.coolux.de, www.burmester-berlin.com, www.denkmalpflege-hessen.de, www.hawk-hhg.de and www.studium.fh-koeln.de.
A short documentary on the project has also been posted on Youtube:
http://www.youtube.com/watch?v=0WbzDSArOMA
Leave a Comment: