Quince Imaging Helps MARS Petcare Actualize Virtual Retail Store of the Future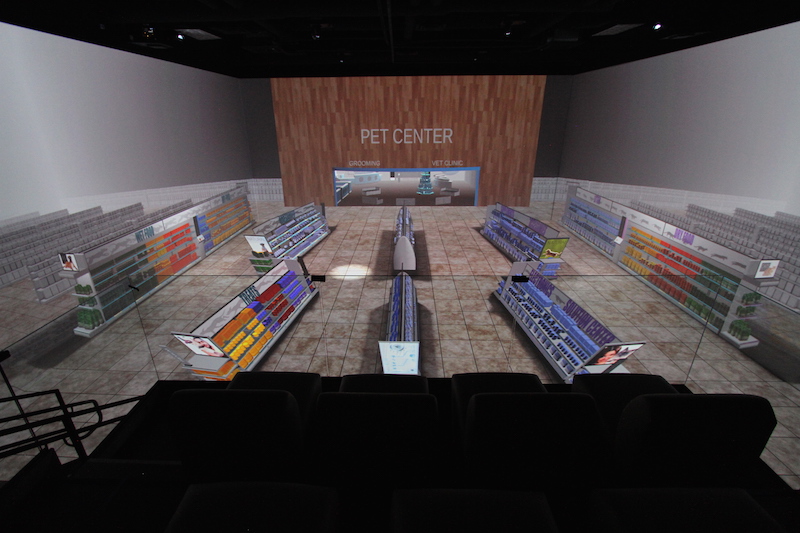 HERNDON, VA,– MARS Petcare, leading global pet care distributor, enlisted Quince Imaging to design an innovative platform, simulating modern shopper behavior in virtual reality – without the use of VR goggles. As part of an ongoing research initiative, MARS constructed a "Retail Store of the Future", empowering retailers to adapt the shopping experience to today's era of pet owners. MARS developed a futuristic retail model, which incorporates modern pet care needs and expectations of pet owners in a variety of demographics.
More details from Quine Imaging (www.quinceimaging.com):
Quince Imaging responded with immersive projection and real-time, forced-perspective rendered content; an offering CJ Davis, Creative Director at Quince Imaging has since coined "immersive reality." The revolutionary store activates the retail experience against primary issues driving change for pet owners that retailers will need to solve, in order to grow their pet businesses.
Utilizing data and research collected by MARS Petcare's team of researchers, Quince Imaging got to work developing creative and interactive visuals to produce an 18-minute, three-dimensional presentation based on the 'retail store of the future' design composition. Using a combination of 3D animation and virtual reality, the store design illustrates MARS Petcare's findings, in accordance with the contemporary shopping behavior of pet owners. Based on characteristics specific to each demographic, the virtual 40 x 40-foot 'retail store' morphs and evolves to reveal how the shopping experience is tailored to meet the needs of each group of consumers.
Employing a blend of state-of-the-art 3D image-mapping technology, 3D animation and immersive reality, Quince Imaging brought the concept of Mars Petcare's futuristic retail store to life. Implementation consisted of synchronizing a multiple-projector array, including nine Barco HDX 4K projectors and five custom-built Ventuz media servers. Over 40 million pixels of real-time-generated content, rendered in forced perspective created an immersive, 3D viewing experience. Preview the video here.
Mars Petcare and Quince Imaging are currently in partnership developing a 2019 update that will incorporate innovative levels of interactivity, further optimizing real-time engagement between Mars Petcare and their customers.
Leave a Comment: