SAP Event Supported By PRG in Frankfurt and Florida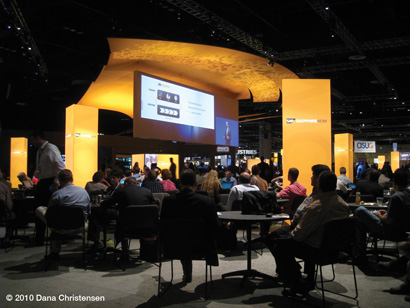 FRANKFURT, Germany and ORLANDO, FL – Sapphire Now, a yearly global business event presented by SAP, was held simultaneously in Frankfurt, Germany and Orlando, Fla. The events highlighting SAP's business solutions were linked in real-time online and streamed between venues. Production Resource Group (PRG) supplied the lighting systems for both venues. Utilizing a single provider for both events helped ensure continuity and gave LD Paul Palazzo confidence in obtaining the gear required for the geographically separate but simultaneous events. Palazzo, the LD for 10 previous Sapphire events, supervised the Frankfurt setup while working on-site in Orlando.
"I designed the template, the whole concept of the thing and told them how to implement it from 5,000 miles away," he said. At Messe Frankfurt, Habegger AG implemented Palazzo's design under the technical management of Eventrix AG. PRG worked closely with Habegger to provide the 170 tons of lighting and rigging technology, including 140 automated fixtures, over 2,000 conventional fixtures, close to 14,000 feet of truss and 550 motors.
The producer for the Orlando event was Joe Venturella, president of i4D Event Services, Inc. "The design approach this year emphasized SAP's successful transformation into an agile, innovative company," Venturella said. Working with Palazzo and Production Designer Dana Christensen, the team created an open environment for 322 interactive demonstration stations and 269 exhibiting partners on the conference floor, as well as a 7,000-seat keynote space, satellite theatres, two TV studios, lounges and session spaces.
For the Orlando event, PRG provided the complete lighting package including 250 automated fixtures and over 3,000 conventional fixtures. PRG also supplied 740 chain hoists and over 15,000 feet of truss to rigging contractor Kish Rigging.
Palazzo noted, "The biggest challenge was just getting the sheer volume of the show accomplished in the timeframe allowed. PRG has always been very flexible; they understand what I need."
Venturella agreed, "PRG has always been really great. Partnering with a global company such as PRG gave us the tools and resources to execute innovative ideas without compromise due to resource limitations. PRG's support was exceptional."
For more information, please visit www.prg.com.
Photo by Dana Christense
Leave a Comment: