Scharff Weisberg and Video Applications Support NY Upfront Season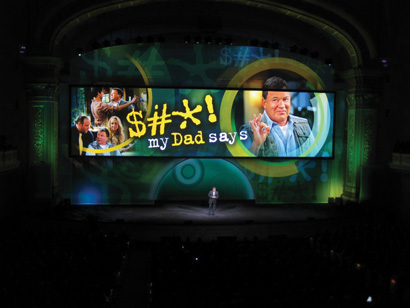 NEW YORK – The broadcast and cable networks' "upfront season" targets advertisers and their agencies with new fall programming lineups. Scharff Weisberg and Video Applications (VAI), companies affiliated via WorldStage, played a key role with upfront events for CBS, Turner, Univision, Oxygen, Cartoon Network, CNN and Discovery Channel. For the CBS event at Carnegie Hall, VAI provided 14 projectors, creating a 40-foot-by-74-foot projection canvas that framed a 15-foot-by-60-foot centerpiece. Bruce Rodgers from Tribe Inc. serving as the scenic designer for the event, which filled the entire Carnegie proscenium with graphics, video playback and live camera images that extended onto the surrounding walls.
Creating this effect required a projection design that could work as a 50-foot-by-80-foot contiguous image, while supporting an independent 15-foot-by-60-foot widescreen banner that bisected the larger image and delivered the principal content. This involved the physical masking of the eight scrim projectors, which were configured in a large quadrant design.
"It was an extraordinarily complex design and technical process, as we had two distinct projected displays sharing the same plane," said VAI EVP & COO Darrell Hennegen. "We enabled this ability for the massive, square projection field to share the same projected space as the 4:1 wide-screen image, without diminishing the image quality. The content for both elements had to extend across all surfaces.
"The solution for this design required six projection blends on three surfaces, necessitating a physical mask in front of each of the eight projectors," Hennegen added. VAI collaborated with Watchout designer Keith Tromer on the content development and playback platform.
CBS executive producer Jane Gottlieb credited the design team for their efforts with the upfront project, which required a "six months gestation period" with "endless amounts of R&D, calculations, testing, demos and literally hundreds of calls to work out this 'science project' amongst the creative, production and technical teams."
Scharff Weisberg supported the upfront for Turner Networks' TNT and TBS at the Hammerstein Ballroom. The main screen, which was part of an elaborate set, was addressed with a pair of Barco FLM HD18 HD projectors fed by Doremi uncompressed HD machines through a Barco Encore rig. In addition, Scharff Weisberg provided the two Green Hippo V3 HD Hippotizers and grandMA lighting console, which were used to coordinate the imagery displayed on two large Barco MiStrip LED towers provided by XL Video.
The New York City upfront for Cartoon Network featured set design by U2's Willie Williams with a 40mm LED backdrop and moving walls that created different aspect ratios for the content. Scharff Weisberg delivered the two-screen edge blend with converged Barco B/U projectors and an Encore system. Video was sourced from a D3 server that also served as a pre-visualization system enabling the designer and client to get visually accurate information about how the LED and HD video content would look before they arrived on site. Scharff Weisberg furnished a similar equipment package for Cartoon Network's Los Angeles upfront which featured a single-screen presentation.
CNN's upfront was a graphics-intensive three-screen show with independent feeds. Scharff Weisberg provided six Christie HD18K HD projectors with switching performed by three Barco Screen Pro II systems with a DVI router and external controller.
For Oxygen's morning upfront at Jazz at Lincoln Center's Allen Room where ambient light was an issue, Scharff Weisberg supplied its Barco NX-4 4mm LED wall to create the 12-foot-by-16-foot main center screen since projection was not feasible. An additional 12×8 foot Barco i10 LED wall displayed footage from the show, Dance Your Ass Off, fed by Playback Pro.
Univision's upfront at Jazz at Lincoln Center featured a number of components from Scharff Weisberg. Two 25K HD projectors displayed content on a rear-projection 22.5-by-40-foot screen; four 61-inch plasma screens were flown in the Allen Room for overflow attendance. On each side of the main screen three Barco i6 LED walls, measuring 2-by-8 feet, were suspended from line sets, as well as hundreds of Versa Tubes that were integrated in the set design. Scharff Weisberg also furnished a GVG Kayak 2 ME HD switcher and four HD cameras for the affiliate feed transmitted live to the Univision networks.
Scharff Weisberg also played a key role for the festivities following the Discovery Channel's upfront. In the Atrium at Jazz at Lincoln Center, the company provided two 10K projectors for 9-by-16-foot screens, four 5K projectors for display on the wall surface and a complement of ground-supported plasma screens. In the Allen Room, another eight 61-inch ground-supported plasmas were installed. Both venues were fed the same HD content from Playback Pro.
For more information, please visit www.scharffweisberg.com and www.videoapps.com.
Leave a Comment: