Spider-Man Meets Letterman, with an Assist from Pete's Big TVs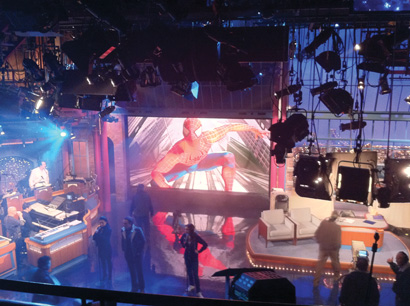 NEW YORK – The Broadway cast of Spider-Man: Turn Off the Dark presented a nationwide peek at the much-discussed show recently on CBS' Late Show with David Letterman. Pete's Big TVs/Performance Video helped project a visual backdrop from the musical. Production Manager Mike Bauder of New York-based MB Productions contacted Guy Benjamin late in the week for the Late Show performance the following Tuesday, March 1.
"It's a quick turn around time in our world," said Benjamin, "but we can handle it. We've actually done a few other promotional events for Spider-Man's cast appearance on Good Morning America and other shows over the past few months."
Spider-Man's projection coordinator/content designer Howard Werner adjusted the show's artwork so that it would match the screen's ratio and high resolution. Though the call was for a 10mm LED screen, PBTV/PV offered a higher resolution screen with the Lighthouse R6, 6mm LED screen measuring 12 by 19 feet.
"The 6mm higher resolution screen looks better on the TV cameras," Benjamin said.
The cast performed the song "Rise Above" in front of a wall of projected webs, modernistic cityscapes and other graphics from the musical.
PBTV/PV techs working the show included Matt Ellar and Brent Jones. The Late Show taped at 5:30 p.m. for airing later that evening from the studio at New York's Ed Sullivan Theatre.
Photos by Matt Ellar
For more information, please visit www.petesbigtvs.com.
Leave a Comment: