Staging Solutions Provides Immersive Visuals for HP Tech Forum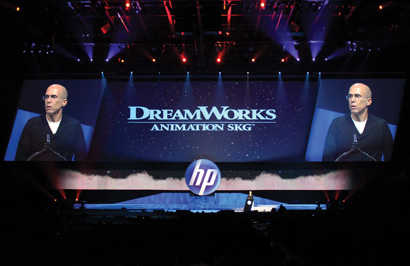 LAS VEGAS – "Innovate, Transform and Converge" was the theme of the recent HP Tech Forum and Expo 2010, and the mission for Staging Solutions, Inc, Hewlett-Packard's event production company. The annual conference brought more than 5,000 technology professionals to the Mandalay Bay Events Center. Staging Solutions transformed the venue with immersive visuals for the event, which featured live music, dance, lighting, sound, panoramic graphic projection along with 3D I-Mag video.
The general session, attended by more than 5,000, featured 3D projection of live theatrical and music performances on Harkness screens. The event also included top execs from HP, Microsoft, Intel, VMware, Brocade and other firms and a presentation by Dreamworks founder Jeffrey Katzenberg that included 3D scenes from Shrek, the Final Chapter and How to Train Your Dragon. This was followed by live concert performances by The Who's Roger Daltrey and The Goo Goo Dolls.
The production incorporated an integral LED wall and panoramic mechanical traveler scrims that revealed the projection screen at strategic moments during the 3D animation sequence. 3D video cameras captured the live interpretive dance sequence by a professional dance troupe and projected I-Mag above the audience on the 79-foot-wide Spectral center screen, which was flanked by two trapezoidal outboard projection screens.
The HP Expo was a 10,000+ square-foot exhibition of new IT hardware and software. Attendees entering the hall passed beneath a 20-foot-by-60-foot interactive LED wall that displayed graphics and video. The exhibit floor showcased products and services from HP and its partners.
More than 150 technical breakout rooms and hands-on labs gave attendees the opportunity to get a closer look at new hardware and software offerings. Each of the sessions was supported with AV.
For more information, please visit www.stagingsolutions.com.
Crew
Creative Director: Claudio Gutierrez
Executive Producer: Dave Lawson
Scenic and Lighting Designer: Sean McCarthy
Lighting Director and Programmer: Troy Eckerman
Technical Director: Mark Perkinson
Video Systems Lead Engineer: Drew Griffith
Stage Manager: Rob Pushkin
Lead 3D Video Engineer: Walt De Jong
Gear
Lighting consoles: 2 grandMA
32 MAC 2000 Wash fixtures
38 MAC 2000 Profiles
60 Source 4 Ellipsoidal fixtures
18 4-light Blinders
16 Color Blast 12 TR LED
36 JB LED A7
23 6-way lamp bars/Source 4 PAR
30 Source 4 PAR fixtures
2 ETC 24K X 2.4K dimmer racks
3 ETC 96K X 2.4K dimmer racks
2 Radiance hazers
2 JEM ZR foggers
1800' 16"x16" black truss
91 1-ton motors
33 ½ -ton motors
188' schedule 40 pipe
Video Gear (2D):
1 Encore System with 24 X 24 DVI router
5 Encore video processors
8 Barco HD18 video projectors
1 Advantage medium HD/SDI terminal rack
1 Advantage medium HD/SDI engineer/camera rack
4 Sony DSR-2000 DVCAM recorders
2 Sony DSR-1800 DVCAM recorders
14 NEC & Panasonic 46" LCD monitors
3 Sharp 52" LCD Confidence monitors
2 Super MAC towers
2 MAC Playback Pro USB software
4 Sony HXC-100 HD cameras
12 Folsom IP-2003 ImagePro HD
2 Sony HD robo-cams
Video Gear: (3D)
1 GVG Kayak 1.5 HD/SDI production switcher (with controller board and mix effects)
1 Sony SRW 5800 HDCAM -SR Deck
1 Technica 3D Quasar Beam splitting side by side camera rig
1 Sony MPE-200 3D image processor
3 JVC GD-463 10U 46" 3D monitors
4 Barco DP2000 digital cinema projectors
2 Doremi DCP-2000 digital cinema processors
1 79' X 28' custom designed spectral 240 3D projection screen
Automation & Show Control:
1 Fresco show control system
4 Automated custom stage elevators
4 Endless winches
1 Vertical configured winch automated system
1 Custom designed traveler track system
1 Fisher control system
Leave a Comment: