VAI Supports Marco Brambillas "Evolution (Multiplex)" at Art Basel Miami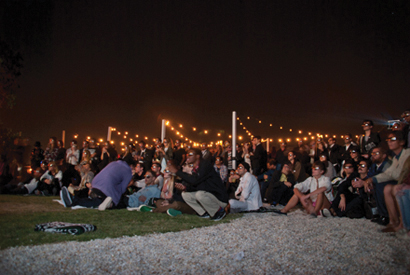 MIAMI – Marco Brambilla's Evolution (Multiplex), a 3D video collage culled from thousands of movies featured at Art Basel Miami, relied upon Video Applications Inc. (VAI) for its 3D silver screen, projectors, technicians and a projectionist. For the event, held poolside at The Standard Hotel, VAI provided a 15-by-26-foot Stewart seamless 3D front-projection silver screen and two Christie HD18K projectors with 3D glass polarization filters that projected the 3D video. VAI transferred content delivered on hard drives to a VAI Digital MediaHub playback and record system.
"Marco brought us in to produce the entire event from the site survey and coordinating content to providing crew, accommodations and local truss," noted Billy Kneissl of Big Show Construction Management, who ended up turning to VAI's Nashville location for help.
"I spoke to every rental and staging house in Miami but no one could do what we needed to get Marco's video on the screen," Kneissl said. "But VAI had the special 3D silver screen, projectors, technicians and a projectionist. They were the only ones who could meet our needs."
Brambilla, a former Hollywood director-turned-visual artist, created Evolution (Multiplex) as a three-minute, multi-layered, horizontal-scrolling 3D video collage of iconic Hollywood movie moments, all set to a bombastic rendition of Tchaikovsky's "Romeo and Juliet."
The 3D video will be installed at the Santa Monica Museum of Art as the centerpiece of Brambilla's first solo museum show.
Along with gear and crew, VAI also provided guidelines for content delivery. The 3D video was delivered to the show site as one 3840-by-1080-resolution clip.
"The output of the MediaHub playback device was split into two 1920-by-1080 HD signal formats for the two projectors, each half representing what either the left or right eye would see," said VAI senior account executive Michael May.
Equipment had been set up the night before the event for testing, but gale force winds prevented VAI from erecting the large screen until immediately prior to the event.
"When we ran into weather problems, the projectionist said he could be ready to go an hour after the screen was up, and he was right," said Kneissl. "VAI was great, especially coping with a lot of the last-minute changes we had to deal with."
In a nod to the high-profile, high-glamour quotient at Art Basel Miami, the 3D glasses for guests were no ordinary throw-away eyewear: They were custom aviator 3D glasses from Armani Exchange.
Neal Gass was VAI's lead engineer for the event.
For more information, please visit www.videoapps.com.
Leave a Comment: