X2O Media's Xpresenter Digital Signage Used at Banff Centre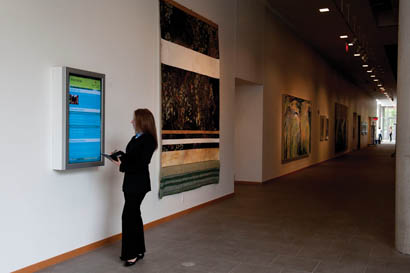 BANFF, Alberta, Canada – The Kinnear Centre for Creativity & Innovation (KCCI) at The Banff Centre has been equipped with X2O Media's Xpresenter digital signage platform. The KCCI is a mixed-use complex with rehearsal and performance spaces, AV-equipped classrooms, hospitality and conference services, library services, and informal gallery areas. It is at the heart of The Banff Centre, a learning and cultural institution that focuses on the arts, leadership development, and mountain culture.
To keep guests informed about conferences, training, and performances taking place in each room of the KCCI and around campus, The Banff Centre opted for a digital signage network featuring 26-inch landscape digital screens outside each of its 19 conference rooms and 42-inch portrait digital displays at its three main entrances.
X2O's Xpresenter digital signage platform is being used to drive the network, enabling automatic display of room booking information via integration with The Banff Centre's scheduling software.
For other data such as event information, The Banff Centre staff manages and updates content in Microsoft PowerPoint slides, while the creative team can easily design powerful new templates with X2O's "smart" template authoring tool as changes are needed, in real time if needed.
"Before our digital signage network, we were printing posters and signage to keep The Banff Centre guests informed as to what events are taking place," said Debra Hornsby, director of communications at The Banff Centre. "Xpresenter provides us with a smarter way to present this information in a more engaging format for viewers. By allowing us to show dynamic content and manage updates with ease, the platform has truly streamlined our processes, reduced our operating expenses, and allowed us to communicate more effectively."
Applied Electronics Limited, a Canadian provider of broadcast, post production, and presentation technology, supplied and installed the displays and worked closely with X2O to ensure tight timelines were met. The KCCI officially opened on July 2, with a grand opening ceremony taking place on July 24. Prince Edward, Earl of Wessex, attended the ceremony.
For more information, please visit www.x2omedia.com.
Leave a Comment: