XL Video Supplies Help For Heroes Concert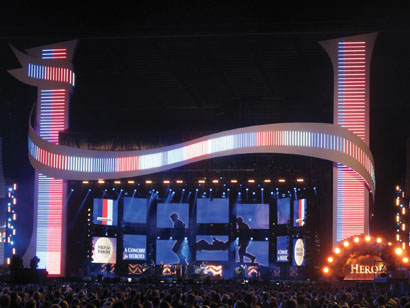 SURREY, U.K. – XL Video UK supplied video equipment and crew for the Help for Heroes event in Twickenham Stadium, including LED for a scenic H-shaped feature that set the visual scene, along with a full I-Mag/camera/HD PPU package. The live BBC telecast covered the high-profile reunion between Robbie Williams and Gary Barlow of Take That onstage for the first time in 15 years, and the lineup also included Tom Jones, Alesha Dixon, Alexandra Burke, Katherine Jenkins, James Blunt, Enrique Iglesias, The Saturdays, Pixie Lott and many others, including the band of the Coldstream Guards.
"It was a hugely prestigious event to be involved with, for an excellent cause," noted Chris Saunders, who project-managed for XL and also designed and spec'd the show's production video elements. "The 'H' was a very ambitious set piece to construct and needed precision and immense attention to detail when it came to applying the video, but the results were well worth all the effort".
The gently-curved H was designed by Misty Buckley as part of the set, and formed a pros arch framing the stage. It was built out of structural flats by Steel Monkey, and XL's team led by Paul Barry spent 10 days at their premises in Bristol, fitting 650 Barco MiStrip pixel strips to these, which were then carefully transported to site and wired up in situ.
Onstage, XL supplied 336 panels of Pixled F15 LED screen, arranged in 14 upstage surfaces – seven panels wide by two high – which served as a digital backdrop to the show. On both sides of stage, there were another two screens used for I-Mag, made from 9 by 7 panels of Lighthouse R7 high resolution LED.
Miguel Ribeiro created the content for the 'H' and the onstage screens, which was stored on a media server.
The XL 4 camera HD PPU used Thomson LDK 8000 cameras – two positioned at FOH with long lenses and two in the pit on track-and-dolly. Ruary MacPhie directed the mix with a GV Kayak switcher, and he took in eight HD feeds from the BBC, including VT playbacks and selected camera TXs.
XL also ran a Video On Air computer-based hard drive system for playing back videos and managed an ongoing text donation system.
The show's creative director was Kim Gavin, the production manager was Steve Nolan of Chromatic, and the executive producer, Graham Pullen for Live Nation. Lighting was programmed and operated by Tim Routledge and supplied by PRG.
For more information, please visit www.xlvideo.tv .
Leave a Comment: