XL Video Supports Live Nation-Backed Concerts in Hyde Park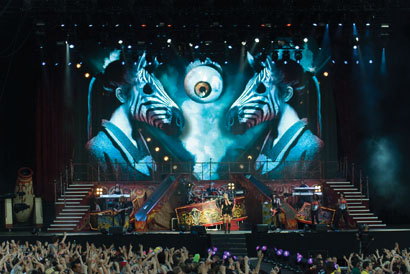 LONDON – XL Video supplied video production for a series of shows in London's Hyde Park this summer, including the three-day Hard Rock Calling festival featuring Pearl Jam, Stevie Wonder and Paul McCartney, the Wireless festival headlined by Pink, LCD Soundsystem and Jay-Z, and a Kings of Leon show in the middle, all promoted by Live Nation. This was the eighth year that XL has supplied these central London events, with picture-perfect weather this time around. Chris Saunders once again project-managed, working with an XL Video crew of 15.
The headline acts were a blend of classic rock genres represented by Pearl Jam, Stevie Wonder and Paul McCartney. XL supplied a five-camera PPU "house" I-Mag system which was directed by Ruary MacPhie using a Green Valley Kayak, and this stayed in place for the whole run of shows.
The cameras were positioned two at FOH with long lenses, two in the pit on track-and-dolly and the fifth mounted on a remote pan/tilt head above the stage, all of which combined to give a selection of dynamic and interesting angles and shots.
Stevie Wonder brought in his touring video production – also supplied by XL – for Saturday night, and director Matt Askem's mix took feeds from some of the house cameras in addition his own.
On the Sunday, Paul McCartney's production used the XL house camera system, which was directed by Paul Becher and installed their own screens – portrait format for the left and right sides, with an onstage backdrop of LED.
XL also installed a Barco B10 mobile truck screen into the VIP Hard Rock Cafe area, and a Lighthouse R7 screen in the public Hard Rock Cafe area at the other end of the Park.
Along with Hard Rock Calling, XL Video has also been on tour with Kings of Leon throughout the summer. For the Hyde Park show, they used their own touring production, complete with Pixled F11 backdrop screen fed via a media server, plus their own cameras, directed by Phil Woodhead. The XL house cameras were used to produce the side screen I-Mag cut.
The Wireless festival wrapped up the run of Hyde Park shows with three days headlined by Pink, LCD Soundsystem and Jay-Z.
Pink has been on tour for the last year with another full HD video production from XL, and utilized her touring video system for this show, including a large Pixled F15 screen upstage.
Pick is touring with five Thompson LDK8000 cameras positioned FOH, in the pit, hand held and unusually for a tour, on a Jimmy Jib operated by Gary Tepper, all this brought together in a mix directed by Larne Poland.
Jay-Z's performance also featured a touring XL Video rig, including columns of Pixled F15.
Additionally for Wireless, Saunders and his team supplied a projection system for DJ Shadow on the second stage.
A series of plasma screens from XL were set up all over the festival site, switching between sporting action from the World Cup football in South Africa and championship tennis from Wimbledon and the various shows. These were fed via a microwave link from XL's production portacabin backstage.
All the shows were recorded for TV by Visions Mobile, directed by Tim van Someren, using some of the XL camera feeds plus their own.
"All the various companies involved in the different aspects of the overall video production across the 12 days and three events worked seamlessly together, and it was another very successful Hyde Park experience,' said Saunders. "It's great to be a part of what has become a pivotal event in the summer calendar."
XL Video also provided a standard playback system for commercials and interstitial VTs in addition to facilitating Tuborg's "Beat The Intro" competition.
For more information, please visit www.xlvideo.tv.
Leave a Comment: