Gourmet Lighting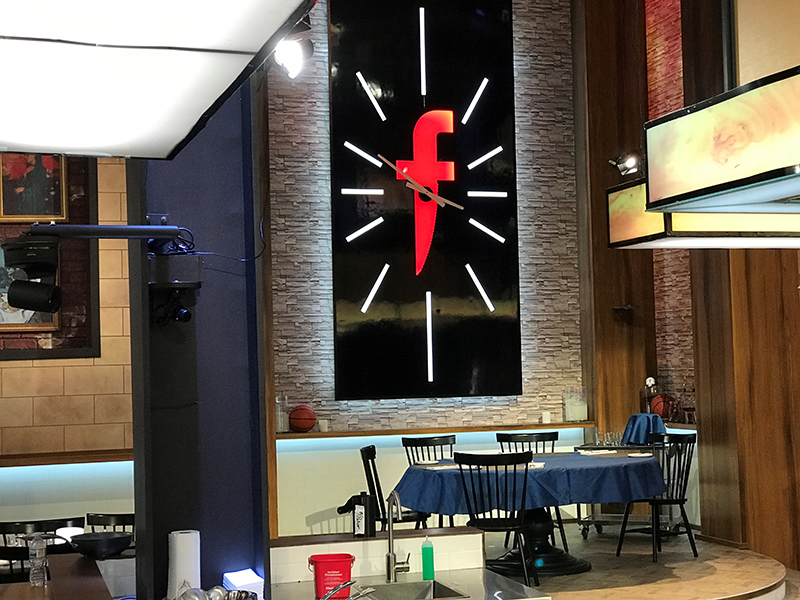 The F Word, on Fox, Lit by Darran Webb
Although it appears to take place in a trendy, real-world restaurant, Fox's hit food competition show, The F Word, starring celebrity chef Gordon Ramsay, is actually shot live and in real-time on a Hollywood soundstage. Its massive, four-wall set rises 28 feet above the floor and includes multiple dining alcoves, a large balcony, a semicircular bar and an open, fully functioning kitchen.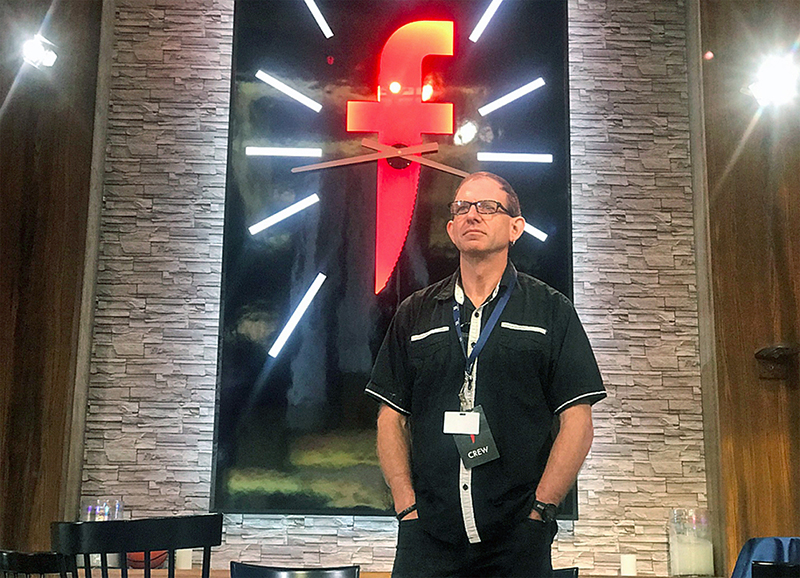 The job of lighting the set belongs to Darran Webb, who serves as both series lighting director and director of photography. His task is to emulate the feel of a big city hot spot while also providing sufficient illumination for the show's camera crew to capture the action, essentially, on the fly.
"The show is shot cinematically with low light to create the atmosphere of a regular working restaurant," Webb explains. "If this were a film, we might spend an hour setting up a single shot, but instead we shoot the whole show in an hour. Plus, because it's shot live, we don't always quite know where everyone is going to be at any one time. That's the crux of the challenge."
The design of the set adds to the challenge by presenting numerous obstacles to uniform lighting. "There's a large chimney in the middle of the space that blocks certain angles," notes Webb. "And a lot of key moments happen under the chimney hood."
Additionally, Webb needs to account for production gear that includes a Steadicam, three hand-held cameras, 17 robo-cameras and a crane with a 16-foot JitaCam jib that regularly swings across the set. Coming up with workable lighting for the show, notes Webb, "wasn't about thinking outside the box; it was about building a new one."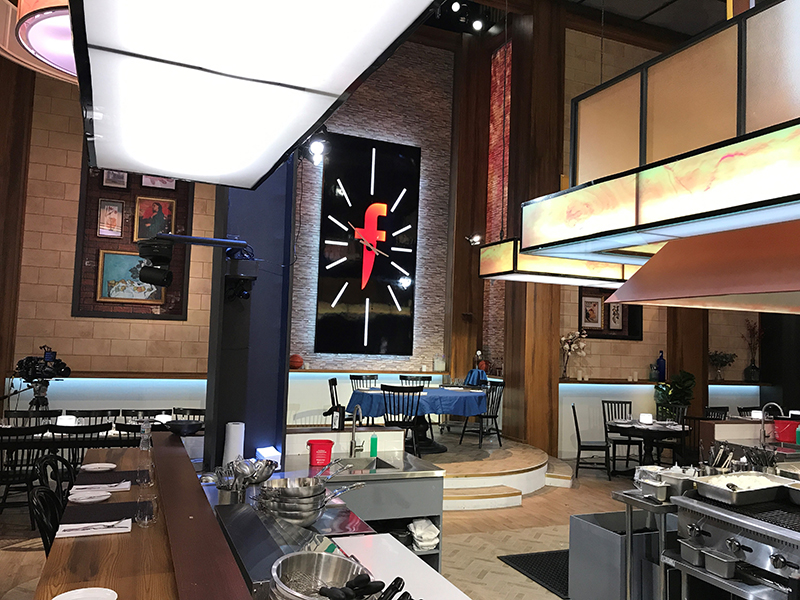 ‡‡ Hidden Fixtures
Ultimately, Webb developed a lighting design that is simple to set up, exceedingly flexible and so low profile that it virtually blends into the set. His ace-in-the-hole is Kinotehnik's newly-developed Practilite 604, an intelligent, bi-color, variable-beam LED Fresnel that is the smallest in its class. Practilite is DMX-enabled, meaning multiple lights can be adjusted through a single controller. Alternatively, brightness and color temperature adjustments can be made via a smartphone app.
To maintain the illusion of a working restaurant, conventional studio lighting instruments must never be caught on camera and so are restricted to grids hung 30 and 40 feet above the floor. This was a trying experience with this particular set, with the design requiring alternative choices in lighting fixtures. The LD needed a better solution and found one in these new fixtures.
Pracitilite's small size means that it can be placed discreetly, virtually anywhere and Darran explains why he opted for them on this shoot. "Firstly, Practilite is a very good light. Secondly, it doesn't look like a studio light. When you watch the show, you'll see lots of Practilites, but they don't attract your attention, because they appear to be part of the architecture. They look like tract lights."
Webb uses more than two dozen Practilites on the set of The F Word. They allow him to direct light into areas impossible to reach from the overhead grid. Because they are easy to set up and can be controlled through a smartphone, they also enable him to make quick lighting adjustments.
"We're working on a brand new set with many places to explore, so we're always looking for another angle," says Webb. "The Practilite is quick to move and, as a bonus, it can be run off a battery. I used two units as mobile keys that shadowed the action as the keys in the problem areas of the set."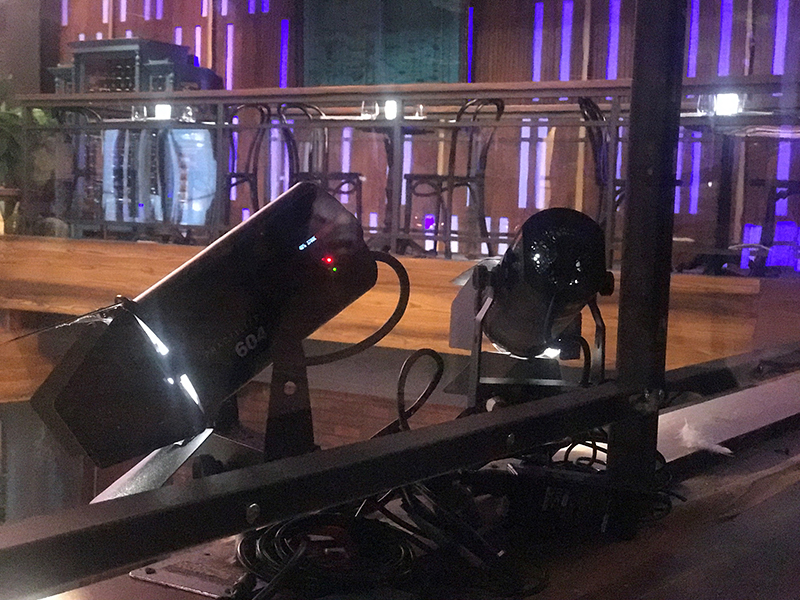 ‡‡ Spontaneity, Served Up Fresh
Practilite, says Webb, allows his crew to capture great shots while keeping pace with the show's spontaneous energy. "Gordon is a great host, and it's part of his nature to act instinctually," he observes. "He's going to do what he's going to do, and we might have two seconds to get the shot. We don't always know what's going to happen. All we know is, it's going to be fun."
Webb is an LD who works primarily in TV. His lighting designer credits include X Factor, Last Comic Standing, NFL Network and Marriage Boot Camp. He has also served as the lighting director on many top-rated television shows such as American Idol, America's Got Talent, Little Big Shots and Last Comic Standing. He has his own design company, Highbury Illumination that, he says, "one of these days I'll find the time to build a website for."
When asked about his history of working with these particular lights, he explains, "I have been using the Bluetooth Practilite 602 since it first came out around March 2016. It didn't have the DMX control and is not quite as powerful. I ended up corresponding with the developers of the light and, over time, the 604 came off the drawing board. I actually used the demo units from NAB to do the camera tests for the show and used the fixtures from first production manufacturing run on the show. When I first asked them if there were any plans for a DMX-controlled version, I had no idea I was actually solving a problem I didn't know I had. Definitely one of those times in life where the stars aligned."
Manios Digital & Film (maniosdigital.com) out of North Hollywood supplies the lighting on this and many other shows shot for camera. They are known as a leading source for premium-quality tools used in broadcast production and digital cinematography, and by independent cameramen. With a tradition of excellence, the company acts as a bridge between manufacturers of world-class imaging products and professionals who depend on them. Kinotehnik is just one of the brands of name lighting instruments they carry.
Leave a Comment: