Raising the Bar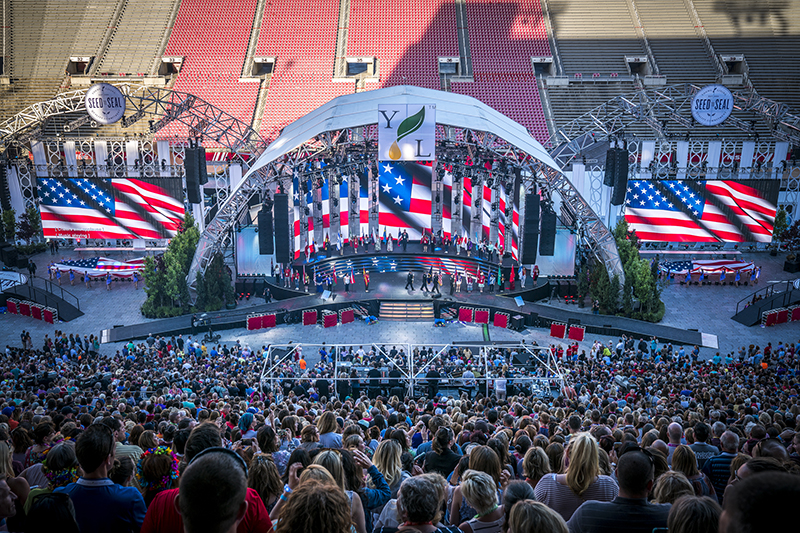 AV Partners Provide Dazzling Visuals for Young Living's International Grand Convention
The 2017 "Fulfill Your Destiny" International Grand Convention drew enthusiastic partners involved in sales for Young Living essential oils from all over the world. This year's International Grand Convention, held June 14-17 at the Salt Palace and Rice Eccles Stadium in Salt Lake City, Utah, got a big production assist from Pixel- FLEX subsidiary Elite Multimedia.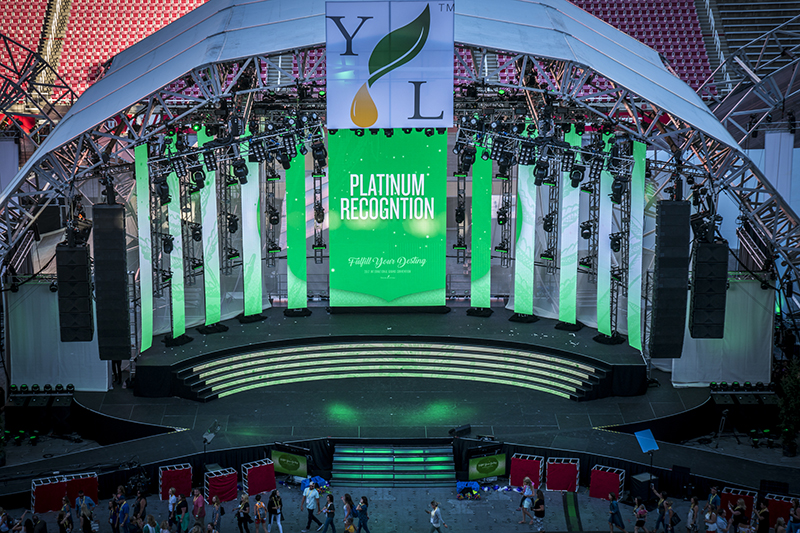 Media productions company Cornerstone AudioVisual also collaborated on the impressive visuals used for this year's event, which featured country music star Carrie Underwood. Together, the production and design teams overcame a series of logistical hurdles and tight timeframes to once again raise the bar and support the event with a spectacular visual design and video content that flowed seamlessly across all the display screens.
"This event is normally held each year at Salt Lake City's Vivint Center, but since it was currently being remodeled, the producers decided to move the event outdoors to Rice-Eccles Stadium," began Chad Fraughton, Cornerstone AV vice president/executive producer. "During the booking process, we learned that we would be sharing some close dates with the Nitro Circus tour, and we would have to be creative with our production design in order to accomplish a bit of concealment of their large ramps. To do this, we decided to go with a mega-structure creation of arches on both stage left and right flanking a large center stage area. When we presented the idea to the executive staff at Young Living, they loved it and it really made the event feel bigger than life."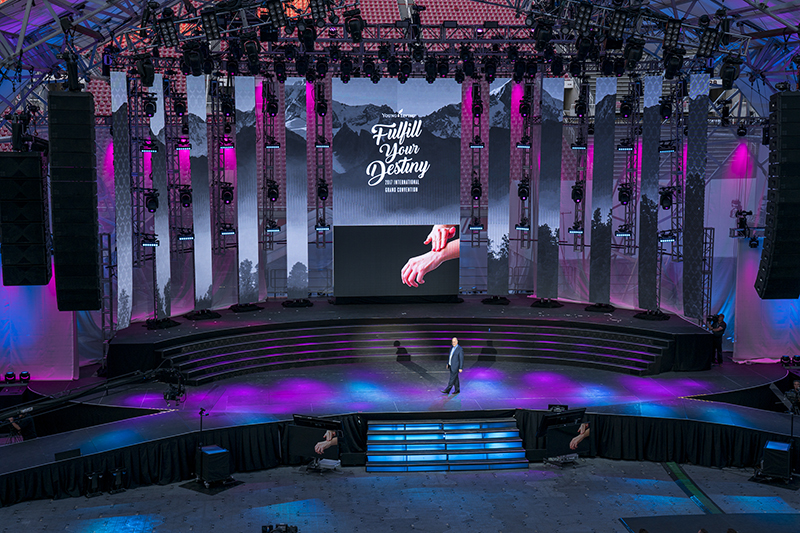 ‡‡ Concept to Execution
"When we started conceptualizing the general look, our client, Brittani Lambert [Young Living's senior director for global events] had very specific creative goals for the convention; deemed as the largest networking show in Utah's history," continued Fraughton. "It needed to be powerful, awe inspiring, and live up to its reputation.
"We felt like having the vertical LED video screens on the center stage, along with the high-definition I-Mag on the outside larger screens, would really help showcase her vision through crisp and clear imagery, and give them the production elements needed to really convey their message," Fraughton said.
Four days prior to the event, each of the companies got together to discuss the plan and get everyone on the same page so the stage displays would not only be ready on time, but also deliver a sensational video experience for the crowd. A synergized team of 200 people worked diligently to set up the venue, which was no easy task, and it was critical to be efficient with the allotted setup time. Adding to the pressure was a band of inclement weather that made the time crunch seem like even more of a hurdle.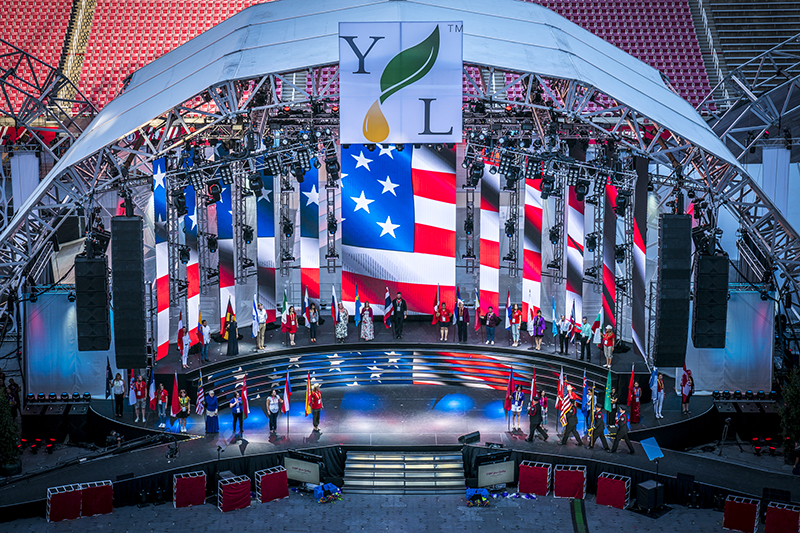 "During the install, we really had to pay special attention to the swinging angles of the cranes while bringing the 120-foot arches into the area, sometimes with as little as six inches of clearance," Fraughton said. "Additionally, for two of the days during load-in, we had winds that were exceeding 40 m.p.h., with some really weird vortexes created in the stadium itself. Plus, we had a bit of rain at one time too. To make the design come together in time, we all had to rally together, and the products needed to be reliable.
"Overall, the team functioned exactly the way we needed, and the PixelFLEX LED displays worked flawlessly," Fraughton said.
The entire setup was completed in two and a half days and included FLEXLite Plus 8.9mm screens on the wings of the stage, a FLEXCurtain HD 6.25mm for the center screen, and TrueFLEX 4mm screens on the stairs. To free up key members from Cornerstone AV and Big Finn Productions, the staffing and labor supplier for the show, PixelFLEX and Elite Multimedia assumed all responsibility for the video screens, enabling them to focus on their areas of expertise for the production. Having a relationship with Cornerstone AV made this responsibility sharing possible and facilitated a streamlined setup and execution.
"In the production design, there were over 600 unique video rolls to run through the media servers, so that was obviously a big project," added Fraughton. "We dedicated two gentlemen from our staff to work exclusively with the team from PixelFLEX and Elite Multimedia to develop the masks so that we could create exactly what they needed. Everyone really did a great job of making it perfect, and that was a big reason why the audience connected so well and felt submerged in the environment."
"We do a lot of work with Cornerstone," explained PixelFLEX senior project manager Jon Chavez. "Rasters were created to have the content flow continuously through all screens. We partnered with Cornerstone AV's EIC, E2 operator and media server operator to make sure everything played nice together."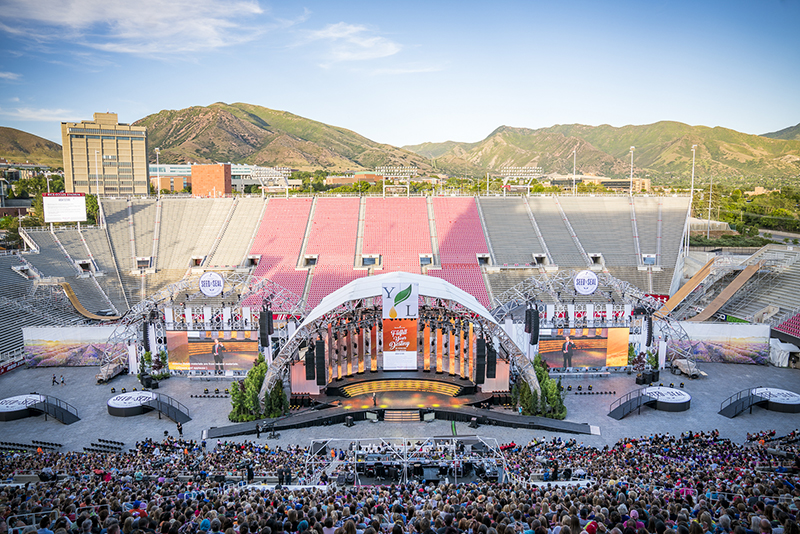 ‡‡ Two Big Events in One
The show combined two major aspects: the Young Living session and the Carrie Underwood performance that followed. This created another challenge. The PixelFLEX video team and Carrie Underwood's video team needed to ensure her elements would integrate well with the display setup as there would be no time for a changeover prior to Carrie's performance. These specialized video teams were able to re-engineer video content with this planning effort to create seamless video effects throughout the entire show.
"The feedback we received from our client was amazing," said Fraughton. "They felt that the event was big and bold and it also worked great for Carrie Underwood. The video setup was very similar to what she was touring with, so from a media content standpoint, it met all her rider requirements, and the audience really connected with the show."
Despite major challenges of narrow setup windows, bad weather, and re-engineering video content with a deadline looming, the collaborative efforts of all those involved paid off in an amazing way. The sheer amount of hard work and dedication put in by the PixelFLEX, Elite Multimedia, and Cornerstone AV teams culminated with incredible entertainment from Young Living and Carrie Underwood backed up by large format video displays for an evening no one will ever forget.
"Having great relationships and being able to work and rely on your production partners, is really what makes or breaks a show," concluded Fraughton. "When we got met with the weather and logistics obstacles, we developed a strong game plan and everyone stayed focused on what was in front on them. Brian Eastmond, Cori Lynn Blaisdell, Josh Kelshaw, Mike Frogge, and both teams at Cornerstone AV and Young Living came together to make this an amazing show, and our partnership with PixelFLEX and Elite Multimedia was another factor in the success. Like us, they never give up, and whatever it takes, they make it happen."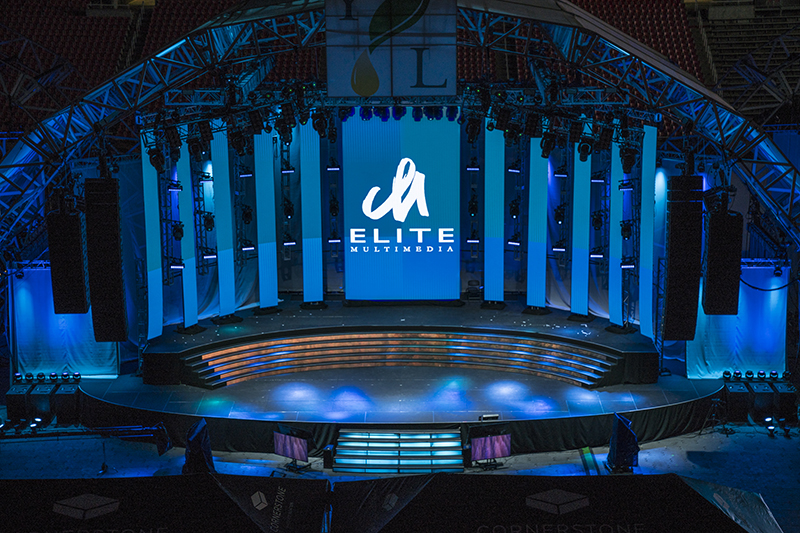 Young Living International Grand Convention
AV Crew
Visual Production Team:
Executive Producer: Chad Fraughton, Cornerstone AudioVisual
Project Manager: Joh Chavez/Elite Multimedia
LED Tech: Jason Turner/Elite Multimedia
Cornerstone AV Team: Mike Frogge; Creative Manager; Brian Eastmond, Senior Technical Director; Cori Lynn Blaisdell, Executive Assistant; Josh Kelshaw, Senior Manager of Global Events; Brittani Lambert, Senior Director of Global Events
AV Gear
From Elite Multimedia:
336 FLEXLite Plus 8.9mm Outdoor LED panels w/touring frames
From Cornerstone AV:
50 FLEXCurtain HD 6.25mm panels
300 TrueFLEX LED 6mm modules
Leave a Comment: