'Ghostbusters' Calls In LD Michael Baldassari for Heavy Metal Concert Scene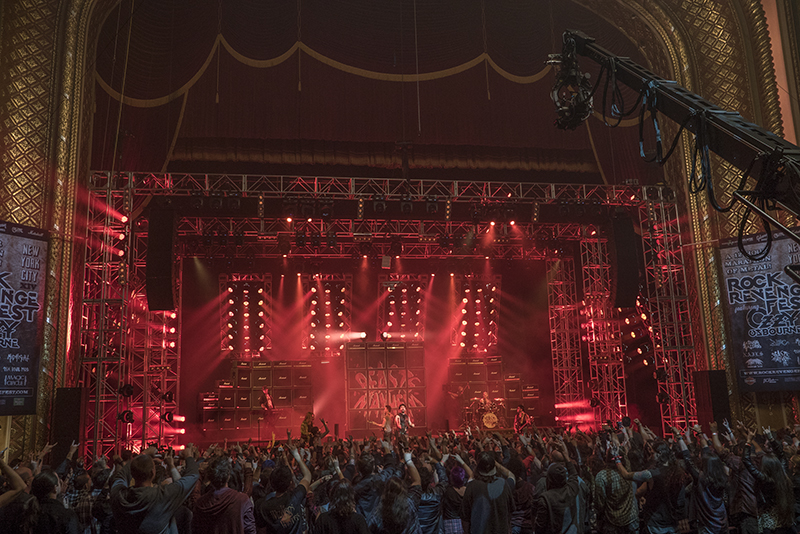 For the reboot version of Ghostbusters, which opened on July 15, 2016, director Paul Feig brought together a new team of Ghostbusters in Melissa McCarthy, Kristen Wiig, Kate McKinnon and Leslie Jones. As ghosts and slime threaten to take over the city, they fight it with comic, and at times, chaotic efforts. When the team get their first call to capture an actual ghost it is at a heavy metal concert. For this key scene, the film's director of photography, Robert Yeoman, ASC and gaffer John Vecchio knew they wanted a concert LD involved but needed someone that could mix the concert lighting with their film lighting. They called on LD Michael Baldassari, who has lit sequences for movies including Rock of Ages, Nine and Sex and the City 2.

"You have to bring in people who do this for a living," Yeoman states. "We shoot movies; we don't really do rock concerts. I find that having a concert designer is much more efficient since they do this all the time, and they have really good ideas. Plus, they know what the hardware will do." Vecchio agrees. "Mike proved to be an incredible asset, because he also understood what it's like to integrate between filming of the movie while staging the concert. Any time that we had the Ghostbusters onstage or backstage, he was able to really seamlessly blend in with our lighting for the characters."
Yeoman continues, "When we brought Mike in, we discussed broadly, color schemes and what ideas we had, but we wanted to give him plenty of freedom to bring whatever he had up to the table. We had our hands full with a lot of stuff going on, and it was great to be able to hand that off to him. We kind of helped guide him a little bit, with what was going on, but he really came up with so much of the ideas. We were like, 'Yeah we love that, that's fantastic.' Or, 'Can we do this instead?' It was a collaboration, but he certainly deserves a lot of the credit for it."
Keeping it Real
It was important to the film team that the concert sequence, shot at Boston's Wang Theatre, have an authentic look. "Essentially, I was brought in to create the lighting for a giant, heavy metal, monsters-of-rock type show," describes Baldassari. "The production designer, Jefferson Sage, had created what I would call the architecture of the lighting system in the look of the sequence. His team had built a model, and then said 'We feel like it wants to have this kind of vibe.' They had these four pods in the back; in the model, they were just rectangles with white dots. I suggested outlining the pods with 12-inch box truss, which Jefferson loved. I worked out all the spacing very carefully to fit into the picture that he had designed, and I had to come up with a light that fit that idea. Something that would fill the pods which were so prominently featured in the scene and also felt 'metal,' but had the versatility that we needed. I wanted something with a large aperture, knowing from experience a big lens just looks better on camera. I went back to [Vari-Lite] VL5's because they had that old-school PAR-vibe, but they can change color and move. They really turned out to be perfect. I used them with clear, spot lenses, as opposed to the normally-used stippled lenses. In fact, the shop called me and said 'Before we re-lens 120 of these, we just want to make sure that you really do want them all in clear.'"
PRG supplied the theatrical lighting and control equipment for the concert sequence. Baldassari's theatrical lighting team included programmer Jason Marin, production electrician/gaffer Shawn Robinson; best boy Sarah Arnold; draftsperson Karen Spahn; and Wang Theatre head electrician Jim Paulson. "They are all complete professionals and total champs," states Baldassari. "Also, we worked with the IATSE Local 11 theatrical stagehands who really did such a great job — a real all-star group."
In addition to the VL5's, Baldassari had a few other workhorse lights in his concert rig. "The perfect complement to the VL5, in terms of on-stage beam fixtures, was the Clay Paky Sharpy," comments Baldassari. "Going into it, I knew that I was going to need super-fast intensity chases, a real speed of movement, and a good deal of what I call 'beam-ology.' The other thing I used was the [Vari-Lite] VL2000 washes for band backlight and lighting the front area of the crowd. For the crowd backlight as well as on the architecture of the theatre, there were [Vari-Lite] VL3500 Spots. A key equipment choice for me was using the PRG Bad Boy with the PRG followspot controller handle. I used four of those placed on rolling road boxes in the balcony aisle, so I could move them left and right on a moment's notice. Having done enough feature films now, I know that it's very important to be able to adjust the angle of a followspot, depending on what the camera angle is, for a particular shot on a moment's notice. They also were instrumental to getting some of the interactive lighting effects when the ghost was flying around the theatre."
Tracing the CG Ghost's Movements
The idea of interactive lighting in the film refers to the ability for Yeoman to capture in camera during filming the reflected light on the scenery and actors of the later-to-be added CG ghost. "I think, whenever possible, it's more realistic when you can do effects in camera," comments Yeoman. "It gives everybody on the set, including the actors, a sense of the environment that they are in. As a cinematographer, it lets me envision what it will look like later in post." Vecchio notes, "One of the things we're really proud of in the entire movie is the interactive lighting. Both the visual effects people and Paul really wanted to do as many of the effects practically on set as humanly possible. Only go into the CG world when absolutely necessary. It was a blast for us to work that way. For the ghost at the concert, Mike suggested using the followspots as part of the interactive lighting solution, and it worked out great," says the gaffer. "It was great to have that kind of power to generate the colored 'ghost' light that we needed to cut through all the other lights in the theatre. "
Baldassari and visual effects supervisor Peter Travers had a number of conversations about what was going to happen. "In the case of VFX, it was mostly enhancing what they wanted to do later," Baldassari says. "They had some video mock-ups made of what they wanted to happen in the finished film, which gave me a good jumping-off point. In the concert scene, the ghost comes out of the drum rise, then goes out over the stage and swoops down and flies around. To give the audience extras an eye-line of the ghost, the film team used a drone. Also, they wrapped the drone in green LED tape, so whenever the ghost was close to a wall, you'd get the green glow on the walls. As the ghost was flying around, I used the PRG Bad Boys as followspots in the same color green. The spot operators tracked below the drone at crowd level so the extras have this moving green light cast across them. We had the visual effects drone flying back and forth, close to the ceiling, the camera crane swinging back and forth below that, to be the ghost's POV; and the followspots tracking below, casting the reflected 'ghost' light onto the audience, all in one shot."
Lighting the Concert
Ghostly apparitions aside, for the concert lighting itself there were 200 cues per song with 240-plus moving lights. Having that many cues, as well as experience of working on a wide range of feature films, led Baldassari and Marin to timecode the show. "I've done this on all the features that I've worked on, because it's a really big help for continuity," explains Baldassari. "Also I don't have to worry about calling cues, but can stay with the DP at the monitor and make needed adjustments for him faster." Vecchio appreciated the choice. "Mike knew that all the cues had to be consistent," he says. "By using timecode, the lighting cues always lined up. Also, the board operator, Jason, was fantastic. Every step of the way, those guys were right on it. Making sure that the lighting cues were always consistent, always matching to the playback."
Yeoman, who is renowned for his naturalistic lighting, worked closely with Baldassari to make the concert lighting work with the overall look and feel of the bigger film, especially when the leads were on camera. "I like to shoot movies so that it looks unlit, basically," comments Yeoman. "Throughout my career, I often get people saying, 'Oh, you didn't use any lights on your movie.' Of course, that's not true, but I try to make it look very natural and very soft. We shaped the lights a little bit in the concert scene when shooting the actors by floating in diffusion screens, a 4 by or something bigger even, like a 12 by silk, so you'd get the feeling of the moving lights, but softening them out a little bit. However, you have to be careful to not destroy the feeling of a rock concert, by softening everything up too much. Mainly for the close-ups we would soften it out, but on the wide shots we just let it go with what Mike had programmed. We also played a little bit with the color saturation. If we felt that the color saturation was a little strong for what we were looking for, we would ask Mike to dial it back a little bit. He was always very accommodating." Vecchio remarks, "It became sort of a softer version of the rock 'n' roll light on the cast."
"Mike did a fantastic job," states Yeoman. "He worked with us very collaboratively; he was very efficient, very fast. When you're doing something like that, things have to happen very quickly. He made it happen almost immediately. It was a great working relationship — he did a bang-up job."
Vecchio agrees, adding, "I have to say that the concert is really Mike and his crew's doing, incorporating Paul, Bob and Jeff's desires. We did the film lighting around their concert work, but his work itself was so solid. He really understood exactly what we needed."
Baldassari also has nothing but praise for the film team and working with them for this concert sequence. "They were really great," he says. "They really wanted it to be authentic, so as long as they could shoot it, they were very happy. They really let us do our thing. For my part, I made sure that we were able to very quickly make any adjustments that they needed. I think that that's one of the things that I bring with my film experience, I've now done about to 10 features; it helps to be able to react very quickly to what the DP needs at the moment. I say this all the time — it can be the greatest lighting in the world, but if the DP can't capture a good image, no one's ever going to see it. That's the beauty of working on big pictures like this. I was there to support their film, but Bob and John were super supportive of me in return. They're just pros. It's a privilege to be in the room and invited to sort of do a jam session with these guys."
Ghostbusters is presented by Columbia Pictures, a SONY company, with Village Roadshow Pictures.
Ghostbusters, by Sony Pictures
Crew
Director: Paul Feig

Director of Photography: Robert Yeoman

Production Designer: Jefferson Sage

Gaffer: John Vecchio

Visual Effects Supervisor: Peter G. Travers

Theatrical Lighting Designer: Mike Baldassari

Moving Light Programmer: Jason Marin

Theatrical Lighting Production Electrician/Gaffer: Shawn Robinson

Theatrical Lighting Best Boy: Sarah Arnold

Wang Theatre Head Electrician: Jim Paulson

Theatrical Lighting Company: PRG

PRG Rep: Pete Harrison

Theatrical Lighting Draftsperson: Karen Spahn
Gear
1 grandMA2 console w/ fader wing

4 PRG Bad Boy CMYs (w/ PRG followspot controllers)

8 Vari-Lite VL3500 Spots

18 Vari-Lite VL2000 Washes

120 Vari-Lite VL5 Washes w/ clear lenses

48 Clay Paky Sharpys

15 GLP impression X4 LED wash fixtures

18 Martin MAC 101 wash fixtures

36 4-Lite (linear 1X4) blinders

12 PAR 38s (500W)

17 Chroma-Q Color Force 72s w/border lenses

74 Philips Color Kinetics ColorBlasts

5 Philips Color Kinetics ColorBlaze 48

6 Philips Color Kinetics ColorBlaze 72s

10 Martin Atomic 3000 strobes

2 Ultra-Tec Radiance hazers (in quiet box, with fan & DMX control)
Leave a Comment: