Modern-Day Boxing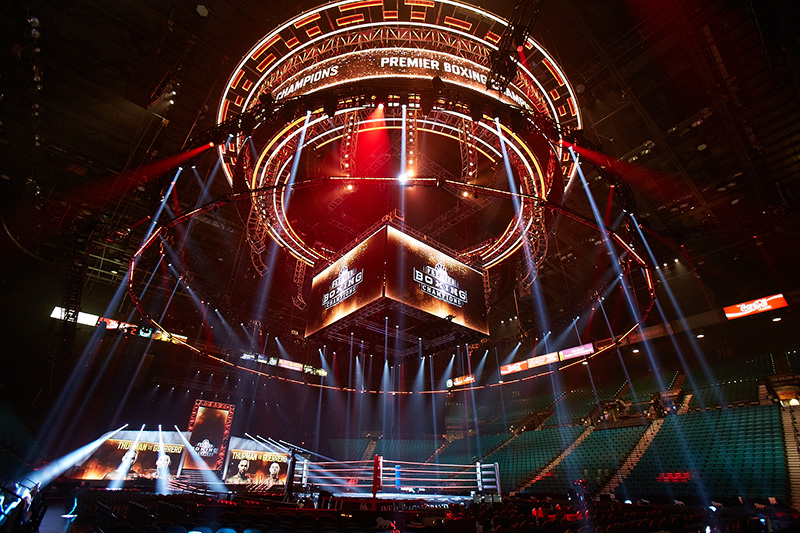 Recently, broadcasting the sport of Boxing has grabbed a more central position on Network Television. New on the stage is Premier Boxing Champions. HBO has upped the ante with spectacular Pay-per-views. Top Rank and, more recently, TruTV are carving their niche in broadcast boxing as well.
In the past, the standard buildup of excitement came from gravely serious announcements and statistics emblazoned on a static shot of the two title fighters.
When the actual event occurred, maybe some Rocky-like entrances brought the titans to the stage. A lone microphone cord dropped from above to the referee's hand. Finally, two men battled on the square canvas. That was it. Beyond the ring, crowd noise filtered through a dark, smoky backdrop.
Present day promoters and producers, seeking to create boxing Events, sought out esteemed veterans from the concert-touring world of design to rebrand and redesign their respective broadcasts.
PLSN sat down with three designers — John Featherstone, Mike Nevitt and Jason Robinson — who are shaping the new look of boxing — to find out how the transition was going.
PLSN: Guys, please let our readers know what boxing shows you are currently working on.
John Featherstone: Lightswitch has been working on the Premier Boxing Champions boxing project that is a multicity, multi network, touring production aiming to bring boxing back to free broadcast as an alternative to pay-per-view.
Mike Nevitt: I am the lighting director on HBO's boxing broadcast. Jason, who is the production designer, and I, work together. He is more involved in the PPV events we do. I am out about twice a month on average with HBO's normal fights. I do other fights as well. In fact, I just got back from China, where we did nine fights over two years in Macau.
Jason Robinson: Top Rank is one of my long time clients. I am involved with anything they do, be it big stadiums such as Cowboy's stadium, or the MGM arena. We recently put together a new show for truTV, called Friday Night Knockout. They have scheduled 22 more fights to their regular season next year. I do the production design on the smaller shows as well, such as the Macau shows Mike mentioned.
In addition, I had done some production design work for HBO boxing in early 2000's. A redesign assignment came about three years ago. The HBO Creative Director came to me and asked us to re-imagine the show.
What sort of brief or direction did you get from the producers when tasked with the design for these projects?
John: The brief for us was to come up with something distinctive to the stuff that existed already and Jason and Mike had set the bar high already. The idea of the Ring of Honor was a rethink of the centerfold kind of core element of boxing, which is essentially the display. In the same way as Jason and Mike conceived elements for Top Rank and the other fights that give them their distinctive look. Jason, one of the things I have always enjoyed about your work, is the Top Rank stuff has a different look and feel than your WWE or HBO stuff.
Mike: First off, let me clarify a little bit more here. We have several different products that we work at different levels. Where Top Rank is the promoter, Jason steps in and does a unique full production design with heavy emphasis on the in- arena show, incorporating video elements, scenic, and lighting.
To Top Rank, the presentation in the arena to the live audience is just as important as the television presentation. We are actually producing the whole in-arena experience. For our regular HBO shows each week, I handle Lighting Designer duties and production. We have our own series of pay-per-views in the smaller realm, in addition, where we use our regular HBO rig and add supplemental video, lighting, and sound.
Jason, you want to tell them a little bit about what we do as far as the in- arena stuff?
Jason: I think I speak for everyone here that we received a similar phone call; Top Rank felt Mixed Martial Arts and the WWE product were leaving behind the boxing product. They came to all of us respectively and said, "Guys, we need to step it up. We want awesome sound, great video, and great lighting." They pointed to U2's production at the time as an example.
Our task was to provide 15,000 or 20,000 fans who paid high dollar for a ticket to have an experience similar to the U2 show. They wanted the fans to walk out thinking, "That was really cool; I had a great time tonight. The next time a Top Rank fight comes around; I am going to go buy a ticket for it."
Our challenge was to do that and make it right for television. We had to sit up and go, alright how do we take everything we use in a rock show that doesn't worry about intensity, color temperature, or camera angles, and make it work for TV, and still keep the integrity of the show.
John, can you break down the structure elements of the Ring of Honor? Like, what fixtures do you allocate for camera purposes, which ones for entertainment or the "flash" factor, and what lit the audience?
John: The big central element by Bruce Rogers from Tribe becomes part of Premier Boxing Champions' distinctive look. A circular array of LED product caps the more traditional four- side LED scoreboard type display underneath that, with a bunch of LED fixtures used as eye candy. LED pars and then an array of Martin Viper AirFX provide the top lighting for the ring.
Jason: Yes, we dedicated lights for television, for eye candy, for ring lights. We chose certain fixtures for picking f- stops and color temperature not because that is what looks good, but because we have Slo-Mo's that require enough light for the cameras to shoot those effects. We chose other fixtures that can compete with the ring light intensity needed. On headset we have our boxing client who wants this awesome rock show, while at the same time our TV guys in the truck are yelling, "We need more light over here," or "this boxer's in the dark!" Sometimes, we have two masters.
What lights do you use to light the ring as opposed to other areas? John, you mentioned you use the Mac lamp for washes. Does that mean you are running at 5600-degree color temperature on the boxing ring itself?
John: One of the things we found interesting for us, having a reasonable range of sports lighting experiences, is that, for example, NBA have a very specific set of lighting criteria. From color temperature to angle to luminance, the parameters are well defined.
Boxing seems to be a little more ad hoc. There does not seem to be a generally broadly published standard. We have a bit more latitude. Obviously, it needs to work for the camera, the live audience, and most importantly, the fighters and the officials.
Because there is so much LED video product running at 5600 color temperature, we decided to extend that format through the rest of the design. That decision pointed us towards automated lights. Not only are they more efficient, they lend themselves closer to a rock show model. The PBC model is, after all, a touring production.
Mike: John, we actually have two scenarios. Our big HBO pay-per-view is more like a one off, but our normal HBO is more like an ongoing tour. Upstaging is our main lighting vendor, and they do a great job providing the bigger systems, while our company, Crossfade Design, provides the touring rig.
We light the ring in 3200 using standard rock-n-roll par cans. For television, it does n0t matter. We like the 3200 feel for the live audience. The fighters are more accustomed to tungsten. Works really well, a nice blend of light. There are no variations of color temperature across the ring.
Jason: Our clients like the softer look. Pars are more tedious to focus, but in the end, it is what our client wants. Each group of producers or group of promoters have their own look, just like at a concert.
John: Your analogy of a concert is right, Jason. We did many tests with the [Martin MAC Viper] AirFX, and the 5600 temperature is what resonated with the PBC guys. Our vendor is Upstaging as well. We like working with them.
What type of fixture did you use for the "Beauty" shots?"
Mike: The [Martin] MAC 101. They are fast, and inexpensive. We all owe a debt to Bill McManus and Jim Moody, who set the tone many years ago on how things should look for boxing and so much else. Now, with moving lights and LED's, the game has changed.
John: I think it is more about the nature of the fixture rather than any particular type of fixture. Small LED fixtures are an absolute bonus.
Jason: With HBO, we got completely away from the beauty cams. Now we use Platinum beams to do white pencil beam ballyhoos while the jib camera floats around them. That is part of our signature look.
For all of you, how do you prioritize your approach to the design?
John: I think this may go for all of us, but you got to light the money first! In terms of the way you distribute your resources, you go to the place where the thrown stone lands in the pond. Everything ripples out from there. With any combat sport, that stone hits in the middle of the ring. That is our anchor. Everything else rotates around that point. Bruce Rodgers designed PBC with the ring so that everything works in concentric circles from there.
Jason: When we get requests to do unique one-offs, I will drop in my ring light plot and build everything off that. Just like John says. Get that straight right away and adjust outwards.
Mike: With our smaller touring rig, we are in all manner size of venues; Madison Square Garden Arena one week, a 40 by 40 foot roof structure outdoors the next, then back to The Gardens Theatre after that. The rig is an octagon that is flexible, which can reconfigure to a 40 by 40 or 50 by 50 foot square truss. We try to keep the ring as consistent as possible on the big pay-per-views, when Jason comes back in with the overall design. Then we branch out from there and go as crazy with as much budget they want to put into the arena. This way we can keep the director and truck guys happy. Because, it is the same team of production people each time and they are getting the consistency in the ring they need. Most importantly, we maintain the look we sold to HBO.
Please describe how you light boxer entrances and what determines the set structure.
Jason: That is also client-related. Some do not want to put any money towards it, because it eats up time getting from that entrance. For some of the bigger pay-per-views, we get the opportunity to do some very interesting things.
The main thing with my client Top Rank, is we want to sell every seat in the house. My client wants to make sure the fans have a complete 360-degree view. That creates a challenge for us sometimes. We still have to make it impactful by use of a lot of video, a lot of small lighting, but make sure there are no seats killed.
John: To create the distinctive look for PBC, we have a stage and an LED wall we call The Wall of Thunder, which anchors the far end of the arena. That is unusual for combat sports. Essentially, it is opposite camera 1 and camera 2 which are the primary fixed camera positions. PBC wants to give the fighter walkouts their own distinctive gravitas and feel.
How do camera positions figure into the design? Do you know where the cameras will be before you lay out your plots?
Jason: The television proponent to most of this is very similar. Many directors share the same approach, and we all know each other. I think there is a sort of standard boxing layout. Some do it different, as with truTV, we are using a spider cam system, which usually plays in football stadiums. Traditionally there is a camera 1 and camera 2 which are hard cameras facing the ring. Camera 3 and 4 are handheld, and the 90-degree camera is number 5. No one has truly broken out from that standard format.
John: Premier has a matrix like array of cameras, which are high-end security cameras surrounding the ring. This enables a 360 sweep around the ring. It is very much like the scene where Keanu Reaves dodges that bullet in the Matrix. With regard to what Jason describes about the four key positions in the ring, it has been my experience that there is only a certain way you can do this.
Jason: Camera technology is amazing now. They can shoot in dark. We still have issues; say with the Grass Valley LDX86 Super Slo-Mo. Mike can speak more to this, though.
Mike: We have the Super Slo-Mo on most of our shows now. It is a super high-speed camera with a frame rate of 360 frames per second. It requires brighter intensities. I would like to run the ring levels a lot lower. It helps us pop out the audience more, which is very important to our looks. I have to maintain the ring at a certain level. It is around 105 foot-candles at the bottom end. That is still a way lower ring lighting level than the old school traditional.
Jason: On truTV, we do not have a Slo-Mo, so, I have an opportunity to drop that level which makes the audience pop more. Those television choices cause us to dance a little to make sure we light everything at the same level.
John: That becomes part of the creative dialogue between the directors of the broadcast teams and us, as design professionals. There are often different focuses from different constituencies within the same project. It is easy to live in a world of absolutes; it is much more interesting and challenging to live in a world of compromise to find the right balance between the broadcast experience and the in-arena experience. I believe that is why more and more people with concert and theatrical experience are finding their way into environmental events like sporting events. We are more used to balancing between the left and the right to find that point where everybody is satisfied.
In the old days, you used to see fighters entering the ring from opposite sides of the arena, Rocky style, with one lone spotlight following him. Do you still do that?
Jason: We do that when we have the bigger HBO pay-per-views. The spots pick fighters up and carry them to the ring. With an overhead Jita Jib or spider camera, and all the cell phone flashlights on, it does have that old Rocky feel.
Mike: On our normal HBO show, it is a little different. We use an "on-camera" light for a tight shot, right up in their faces.
Tell us about consoles and your programmer/operators.
Jason: I do not specify a console. Eric Wade is my operator for the truTV and he chooses a grandMA2. On big pay-per-views for HBO Eric Wade and Troy Eckerman both, use the grandMA2. All the Macau fights and the last couple of big MGM pay-per-views we had Mark Pranzini and Joel Young come in. Both of them love the Martin M6.
John: PBC uses a grandMA2. Mike Robertson programmed the show. Greg Garrison is our operator and Warwick Burton is the Lighting Director.
What was the thinking behind selection of video structure and type of screens?
Jason: Our Executive Producer for Top Rank got an idea from seeing U2 a few years back on the 360 Tour. He said he wanted to do something different, something like that. The cylinder over the ring at the MGM pay-per-view came out of that along with a distinct design dedicated to get away from the square box look. When you walk into the arena, you feel like you are at a concert. You do not see a traditional score board with a bunch of beer logos on it. You see this cylinder, which uniquely brands Top Rank.
John: Bruce Rodgers from Tribe Inc. came up with a unique design to deliver content and that information. The result, of course, is the distinctive brand associated with Premier Boxing Champions.
Boxing Gear Lists
Premier Boxing Champions
Gear
103 Martin MAC Viper AirFX
30 Martin MAC Viper Performance
6 Clay Paky Sharpys
12 Kino Flo Tegra 4'4 Banks
194 LED Quad Pars
Top Rank MGM
Gear
1 grandMA2 Lite consoles
2 Martin M6 lighting consoles
12 Vari*Lite VL500 Tungsten
66 Martin MAC 300 LED fixtures
38 Martin MAC 101 fixtures
36 Martin MAC 301 fixtures
44 Martin Atomic Strobes
23 Martin MAC III AirFX
10 Martin MAC Auras
116 Clay Paky Sharpys
44 Aryton MagicPanels
12 LED Par toners
20 ColorBlast12 fixtures
21 Par64 6 Lamp Bars
2 Source Four 19° Lekos
350 Martin EC10 LED Panels
150 Martin EC20 LED Panels
40 LC2140 Panels
14 LC1140 Panels
2 Catalyst media servers
1 5 ton grip truck
12 2K Zip Softlights
1 Screenworks video flypack switching and playback system
6 Hazers with fans
2 Fog machines
Top Rank Macau
Gear
2 Martin M6 consoles
2 Martin M1 consoles
8 Martin Ether2DMX8
24 Martin MAC 2000 Profiles
24 Martin MAC 2000 Washes
8 Fine Art 2000 Washes
8 Martin MAC 700 Profiles
12 Martin MAC 700 Washes
36 Martin Atomic Strobes
87 Terbly JT160 Beams
72 FineArt 230 fixtures
166 Viky 354 RGB (Toner)
54 Yo-LD609-3B (Toner)
120 Par 64 fixtures
4 Robert Juliat Cyranos
8 2000W Fresnels
8 2000W Zip Softlights
24 Robe 1200 LED Wash fixtures
2 Martin Jem ZR44
6 Antari HZ-400 hazers
4 6mm LED video panels (7m x 4m)
4 6mm LED video panels (2m x 4m)
2 6mm LED video panels (1.5m x 5m)
18 12.5mm LED video panels
4 4mm LED video panels
1 Blackmagic Design ATEM Production Studio 4K
1 Blackmagic Design ATEM 1 M/E Broadcast Panel
1 Hippotizer Media Server System
HBO
Gear
1 Martin M2Go lighting console
20 Elation Platinum Beam 15Rs
14 Martin MAC 2000 Wash XBs
34 Martin MAC 101 fixtures
10 Source Four Lekos 10°
8 2K Zip Softlights
21 Par64 6 Lamp Bars
TruTV
Gear
2 grandMA2 lighting consoles
12 Par64 6 Lamp Bars (MFL lamp)
20 LED Par Toners/Martin MAC 101s
96 Elation Arena Zoom LED Pars
36 Clay Paky Sharpys
2K Zip Softlights
Leave a Comment: